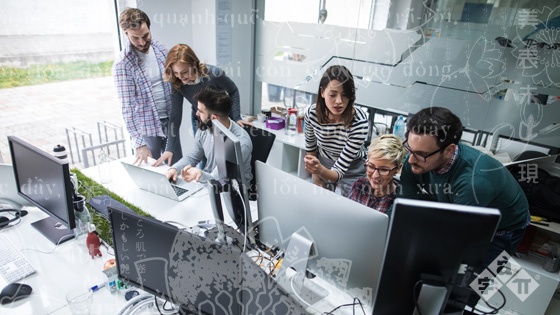 There is no denying that MT (machine translation) has become a cornerstone of localization as clients demand faster turnaround times, better connectivity, and increased accuracy. MT is becoming another tool in the toolbox for translation services providers.
The recent advent of neural machine translation (NMT) surely leaves some companies wondering how, exactly, does this technology enables LSP (Language Service Providers) to deliver faster, better and more accurate translations. Read on to learn how.
Faster Turnaround Times
When the NMT solution is efficient, linguists can go faster. A well-written source text that is suitable for machine translation (e.g. technical guides, online help, user manuals, software strings, questionnaires, forms, and many more) will make it possible to leverage a high quality throughput that requires minimal post-editing.
A human translator can typically handle about 2,000 words per day without MT. The post-editing speed will vary from project to project, but the use of MT guarantees faster turnaround times in the long term by allowing linguists to tackle much higher volumes.
Better Connectivity
NMT systems can be plugged into various TMS (Translation Management Systems) streamlining the translation workflow and automating some tasks along the way. This newly gained agility can be used in a number of ways by both the client and the LSP.
For instance, a client might expect faster turnaround once a plugin connects directly from their TMS to the LSP MT.
Or a LSP might use the saved time to run more customized Quality Assurance checks to ensure that the MT + Post Editing content is of a nearly human quality.
So, connectivity with client's TMS reduces production time allowing core staff on both sides to focus on important localization tasks rather than parceling and sending files to and from translation services providers.
Increased Accuracy
Since neural machine translation technology is based on an enhanced statistical analysis of the text, it can predict with higher accuracy the sequence in which words should appear in the target translation. NMT learns directly from the text it is fed how to translate by connecting to large neural networks. It departs from previous solutions, which used to work by analyzing the grammar or calculating syntax probability. Therefore, neural machine translation performs better by providing target sentences that sound more idiomatic. Plus, the neural technology allows MT to be flexible, and adapt according to the context.
For instance, unless the term is included in your glossary (which is unlikely), a common word like the verb 'set' will be translated accurately (e.g., with the appropriate term) by the NMT whether it appears in the sentence 'Set the value to 1.' or 'Set the monitor on its base.' As such, it proves much more efficient than legacy systems or simple glossaries.
This means that translators can accept those suggested NMT words or segments as they are more accurate and they fit better within the paragraph being translated. Also, better accuracy accelerates the post editing effort, hence enabling the translator to be faster.
In a nutshell, NMT:
is faster, since the post-editors can process a significantly higher number of words
is more flexible, as it can connect to your TMS
is more consistent, as terminology is consistently applied
Want to know if your own content would be suitable for machine translation?