Comprehensive eLearning content translations
We translate eLearning content into 100+ languages. Our customers range from online education companies reaching millions of students to brands that localize training courses for their users and employees.
With in-house software engineers and video and audio specialists, we're prepared to take on your next eLearning translation project, no matter the size or complexity.
SimulTrans' professional native linguists use advanced technology to localize all components of your courses, including:
Written content
Audio and video
Subtitles and closed captions
Assessments
Desktop software
Mobile apps
We deliver eLearning localization at scale, leveraging a massive translation team and advanced technology to localize even the largest course libraries.
We're software-agnostic and always use the best tools for the job, working with you to identify the technology that best fits with your workflows and file formats.
We never lock clients into costly service plans. Our transparent fee structure, translation memory discounts, and free client portal access provide long-term savings.
How it works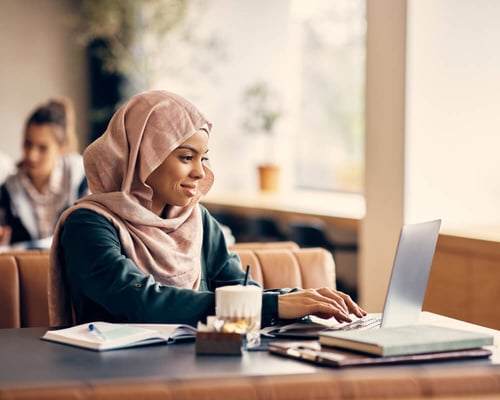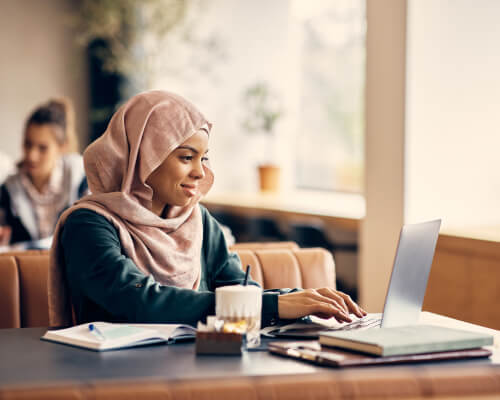 How it works
To begin the translation process, upload your files, receive a free quote, and approve it.
SimulTrans' expert linguists translate your eLearning content.
SimulTrans' audio engineers record voiceovers at our in-house studios with your choice of talent from our international voice talent pool.
SimulTrans' video engineers integrate your translated audio, video, and subtitles.
We thoroughly review and test all course elements to ensure they work properly.
You receive your localized course content.
Your eLearning translation project partner
SimulTrans is the preferred eLearning translation partner of so many leading brands because we understand the unique requirements and challenges that are involved in developing global training programs.
Our experienced teams are always available to work with you to find the best solution for your needs. This flexible, hands-on attitude is why we've been able to achieve a 97% customer satisfaction rate and remain a leader in the industry since 1984.
Benefits of partnering with SimulTrans:
There's never an added cost to you for the tools and technology we use to translate your materials.
We'll always suggest the most cost-effective solution for your needs.
Translation memory saves time and money by reducing unnecessary rework while maintaining consistency.
The SimulTracker portal keeps every project organized and improves collaboration between teams.
We connect our systems to yours to automate ongoing translation projects, accelerating work and reducing admin needs.
Featured Content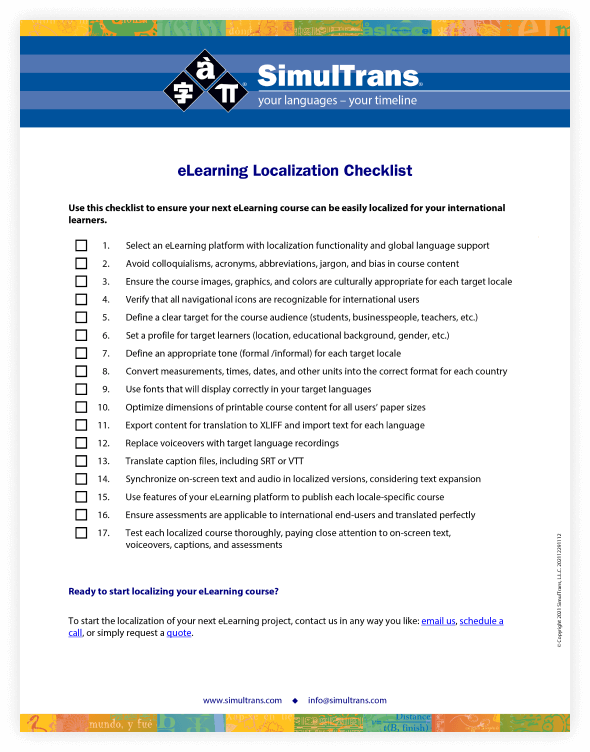 Featured Content
eLearning Localization Checklist
Use this 17-point checklist to ensure your future eLearning courses can be easily localized for international learners.
Download
More insights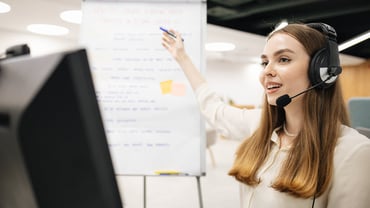 Article
Localization of SCORM eLearning Courses
Convert old eLearning course content into SCORM-compliant eLearning courses before translation and ...
Read now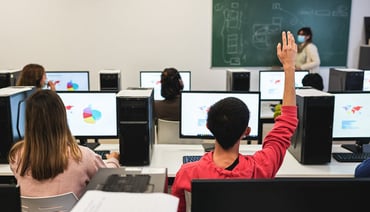 Article
What is SCORM?
SCORM (Sharable Content Object Reference Model) is a set of technical standards for eLearning ...
Read now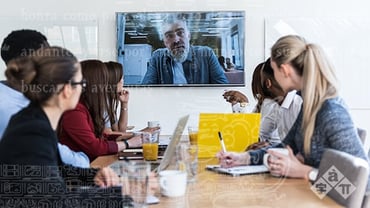 Article
5 Innovative Ways to deliver eLearning
While the traditional instructor-led training is still very much around, with the recent ...
Read now
Frequently asked questions
How much does eLearning translation cost?
Our eLearning translation services are priced based on the following factors: translation costs per word; engineering, audio, and testing services per hour; and voiceover talent per minute of recording.
Translation costs vary by language, typically corresponding to the cost of living in the target countries (for example, translation into Simplified Chinese is about a third of the cost of translation into Swedish). Contact us for a free quote.
Can my files be translated into any language?
Yes. While some learning management systems are not fully compatible with bi-directional languages and extended character sets (causing problems for Arabic, Hebrew, and Asian languages), our engineers can create customized solutions and provide advice on tools and workarounds to support the translation of your content into any language.
How many courses can you translate at once? How long does it take?
That's up to you. We can accommodate projects of almost any size by scaling your translation team (some projects have over 100 translators per language). Our translators work simultaneously, so the number of target languages won't impact your timeline.
If it's determined to be a good fit for your content, we can also use post-edited machine translation to enhance our human translators' output and accommodate rapid timelines.
What learning management systems and file types do you use?
SimulTrans supports the most popular authoring tools for eLearning, training, and media content.
Tools we frequently work with include Adobe Premiere, Adobe Captivate, Articulate Rise 360, and Articulate Storyline 360, along with many others. File types we commonly work with include SCORM, XLIFF, xAPI, SRT, VTT, STORY, and many more.
If you're using proprietary tools, our engineers will work with you to test different file formats and determine which will be most efficient for translation.