Complete user interface localization and testing
Whether they're cloud-based or on-premise, software applications must be localized for international users. However, localizing software isn't just about translating text.
Thanks to our expertise with a variety of resource file formats, we can parse text for translation and provide files you can immediately use, saving you from copying and pasting or manually importing text.
SimulTrans offers complete localization services for SaaS, desktop, and mobile applications, including:
Translating all interface strings and other user-facing text
Collaborating with developers to address details like line breaks and locale-specific text anomalies
Testing localized applications to ensure linguistic accuracy in context and catch internationalization bugs
Our in-house engineers understand all popular programming languages and file formats, including JSON, PO, XML, and many more.
Our large, skilled quality assurance team tests software in each target language to ensure all text appears correctly and is contextually accurate.
SimulTrans can connect our system to your file repository so we can quickly translate content whenever you make updates.

How it works
1.To begin the translation process, upload your files, receive a free quote, and approve it.
Pro tip: For ongoing translation needs, connectors to your file repository make the content transfer process even faster and easier.
2.SimulTrans' project managers select the best subject-matter expert linguists for your software.
3.SimulTrans translates your content into your requested languages on your schedule.
4.SimulTrans' reviewers check content for terminology accuracy and linguistic style.
5.SimulTrans incorporates the translations into their original source formats and checks the integrity of each file to ensure all code and keys surrounding translatable text remain intact.
6.Once you've received your files and compiled the application, SimulTrans starts the testing, reporting, and signing off process to ensure your localized software is ready for release.
7.When you need updates or have more content to translate, SimulTrans uses translation memory to ensure you don't pay to translate the same text twice.
Your long-term partner for software translation services
SimulTrans is the preferred software localization partner of so many leading brands because we're able to meet all translation needs as businesses grow and change.
Our experienced teams are always available to work with you to find the best solution for your needs. This flexible, hands-on attitude is why we've been able to achieve a 97% customer satisfaction rate and remain a leader in the industry since 1984.
Benefits of partnering with SimulTrans:
There's never an added cost to you for the tools and technology we use to translate your materials.
We'll always suggest the most cost-effective solution for your needs.
Translation memory saves time and money by reducing unnecessary rework while maintaining consistency.
The SimulTracker portal keeps every project organized and improves collaboration between teams.
We connect our systems to yours to automate ongoing translation projects, accelerating work and reducing admin needs.
Featured Resource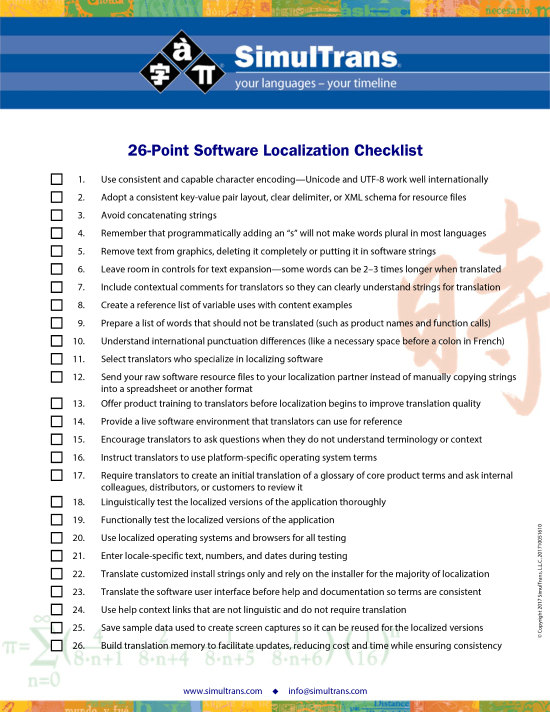 Featured Resource
26-Point Software Localization Checklist
To localize software effectively, developers should consider internationalization challenges, provide context to translators, and thoroughly test localized versions. Use this checklist to prepare your software for the localization process.
Download
More insights
Article
Localization as Part of Your Customer Experience Roadmap
In today's global economy, businesses are expanding worldwide, catering to customers who speak ...
Read now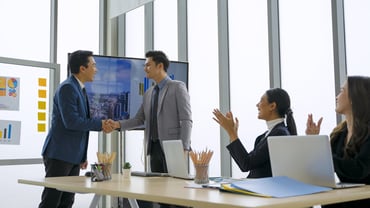 Article
Korean, Thai, Vietnamese
Companies are increasingly targeting Korean, Thai, and Vietnamese, all languages with fascinating ...
Read now
Article
Norwegian Localization: Bokmål or Nynorsk?
When localizing a product or translating a document into Norwegian, you must decide whether to use ...
Read now
Frequently asked questions
How much does software localization cost?
Costs vary by language, typically corresponding to the cost of living in the target countries (for example, translation into Simplified Chinese is about a third of the cost of translation into Swedish). SimulTrans provides discounts based on repeated text by leveraging translation memory.
Which character encoding should be used for software files?
In choosing an encoding standard, the goal is to support the character sets of all target languages; we recommend encoding that supports languages universally, typically a form of Unicode. Software strings are often encoded using UTF-8 or UTF-16.
How long does software localization take?
Project timelines depend on word count, project complexity, and team size. Translators usually translate software at a rate of about 2,000 words per day, and our translators work simultaneously so the number of target languages won't impact your timeline.
We can accommodate almost any timeline by scaling your translation team. A typical team has three translators and two reviewers per language, while some projects have over 100 translators per language!
If your project requires post-translation engineering builds and testing, please allow for additional time in the schedule.
What software string format works well for localization?
Any externalized strings are typically suitable for localization. We prefer user interface text in separate resource files (as opposed to hard-coded strings embedded in the programming language).
We often receive software strings as key-value pairs in properties files, XML, JSON, YAML, iOS .strings, Android Strings XML, PO files, XLIFF, and dozens of other formats.
SimulTrans is also able to parse and localize strings embedded in application files, such as PHP, JSP, ASPX, and JavaScript. As long as the localizable values are delimited consistently, it's easy to identify the text for translation and create target-language versions.
How should localized applications be tested?
Once the software is recompiled in the target languages, we recommend several types of localization testing:
Linguistic testing: Verifying the correct use of terminology in context.
User interface testing: Ensuring the software looks and behaves correctly from a user perspective, and that no controls are truncated.
Internationalization testing: Checking for the correctness of user input in various character sets and verifying the accurate display and processing of locale-specific information (including time and date formats, currency, numbers, and sorting).
Functionality testing: Checking for correct software operation using the test plans and scripts created to test your original source-language software.
Compatibility testing: Verifying the localized software works with target-language operating systems and localized supporting applications, such as browsers.
SimulTrans is able to complete these tests together as part of a single test pass.