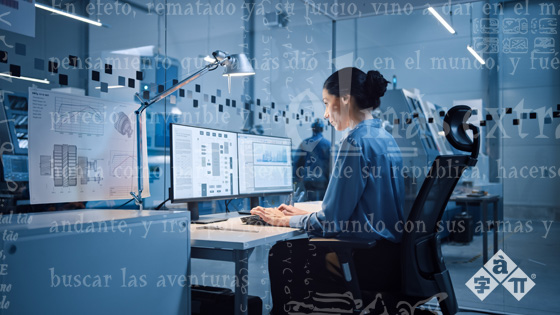 Nowadays, translators can use a large variety of CAT (Computer Assisted Translation) tools to help them work more efficiently and more accurately. There are dozens of translation tools out there. In this blog, I will evaluate two of the most popular translation tools in the industry, describe in what ways they are different, and what are their unique advantages from a translator's point of view.
Trados Studio
Trados Studio is the latest evolutionary form of a solution that started decades ago as a Translation Workbench in Germany. The latest stable release, Trados Studio 2019, offers a wide range of features that can help linguists streamline their processes. Trados is a software suite that can be used as a desktop solution for translation and post-editing. Most freelance translators probably own a license, as do many large Language Service Providers.
In terms of user experience, Studio remains one of the most popular tools for linguists. It combines all the most essential features in one clear layout, placing the segments for translation in the center of the window with the Translation Memory matches/search results on top. The left side of the screen has links to other files and folders in the project and can be used to access other features, while the right-hand side contains glossary ("Multiterm") matches, as well as a button for the preview.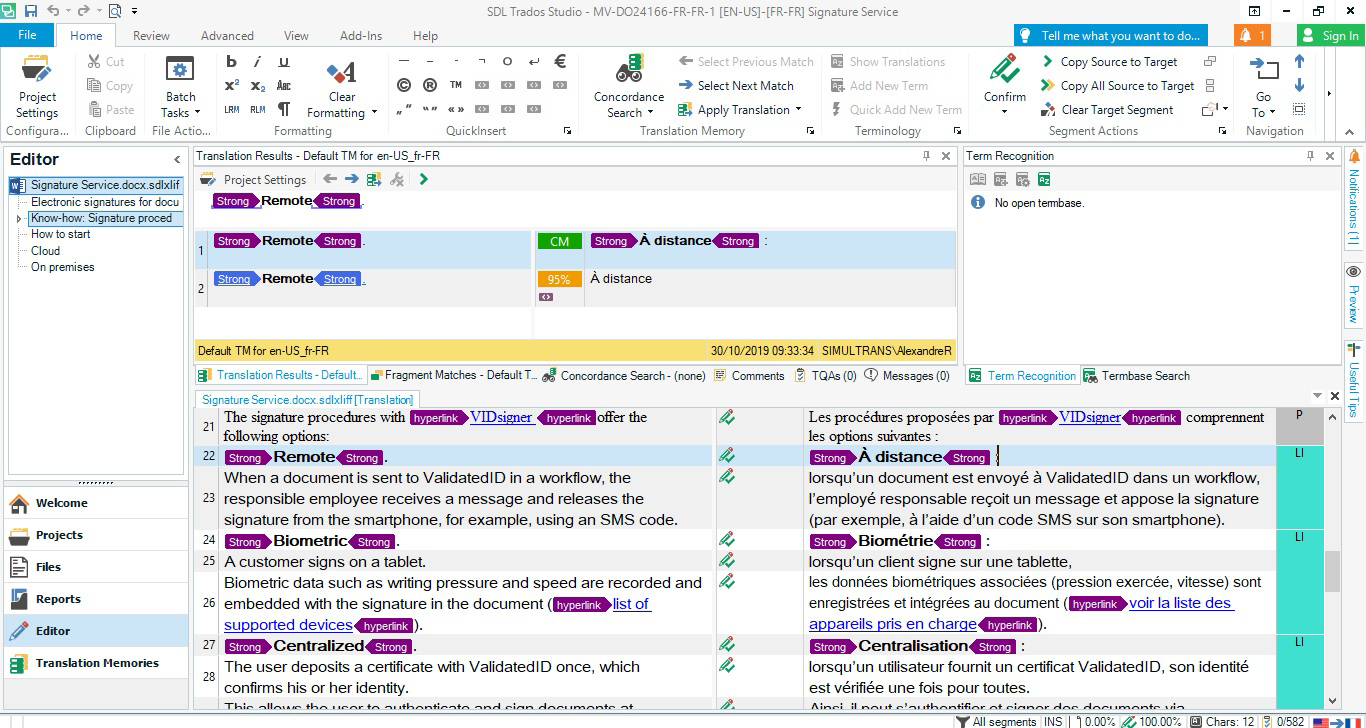 After many years in the industry, it still feels like Studio remains the most user-friendly CAT tool of all, perhaps because of a decade-old habit, but even its most obscure functions are not too difficult to find and use.
Another great thing about it is that it gives linguists more control over their Translation Memories (TM) and glossaries. Translators can freely import/export TMs, switch between TMs depending on the files or on the subject matter, choose which TMs get updated, their preferred fuzzy matching threshold, and so on.
More technically inclined translators probably prefer it as it also allows linguists to generate clean files themselves so that they can deliver a final document to their customers directly. But engineers love it too! It can be integrated into a multitude of other software tools and is compatible with many file formats.
Memsource
Memsource is a cloud-based online translation management system that can be easier to understand in a short amount of time for newcomers. Since it is cloud-based, Memsource can be used from any device with an Internet connection and offers massive advantages in terms of storage space.
The interface is fairly straightforward, and the translation window also regroups all the essential features in one layout. The segments for translation are once again in the middle, this time in the top half. Below them is the preview, a very useful tool.
The translation memory and the glossary are combined in one small panel on the right, which can be confusing. The search function is less granular than in Studio, and the translator has no control whatsoever over the TMs and glossaries used.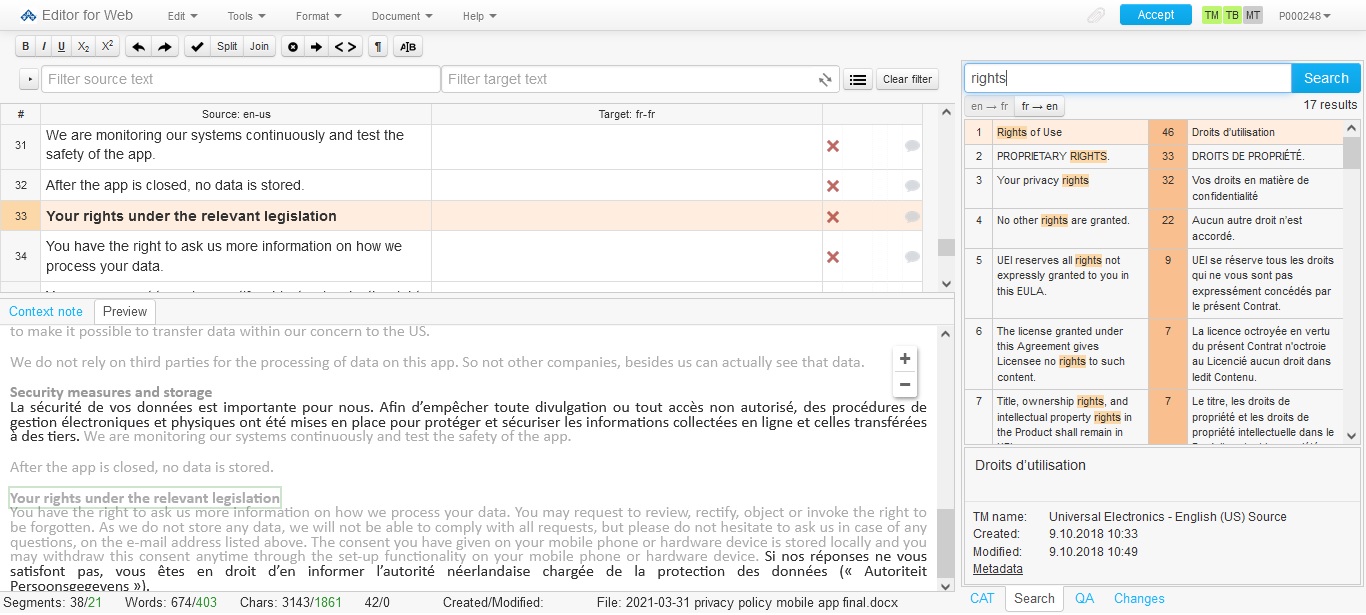 There is one thing you can do more easily in Memsource than in Studio: open all the files of a project in one combined window. Although Studio does allow it, it tends to become resource-intensive very quickly and could considerably slow down the machine's performances. Whereas in Memsource, it simply depends on your Internet connection, and even if it proves time-consuming, it's unlikely your other programs will be affected.
In terms of QA, the dichotomy is the same: Trados offers a more layered and detailed set of options, while Memsource offers a simplified, intuitive process. It all boils down to what your needs are. Do you need to check the capitalization of initial letters, or unintentional spaces before specific symbols? Go for Studio. Are basic QA options sufficient? Memsource might make more sense then.
Conclusion
Hardcore users and fast learners who want more control and flexibility can never go wrong with Trados Studio. On the other hand, translators who do not need to bother with files, TMs, glossaries, or any such documents on their end might want to embrace the simplicity of Memsource.
If you are wondering, which is the best translation tool? The truth is that because of the diversity of technical documentation for translation, a translator works on every day, no one translation tool is probably the best. My advice is to determine which tool is better suited for each account or project you are working on.
Subscribe to our industry blog and keep up with the latest tools and technologies in the localization industry.