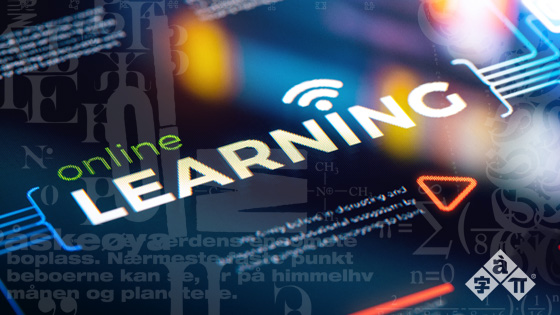 Localizing eLearning content allows your course to be consumed by millions of people whose primary language is not English. Follow the three steps below to learn how to scope, export, and import localized eLearning course content in Articulate 360.
Step 1: Scoping a Project for Localization
Articulate 360 has built-in functionality for localization. This means that any eLearning Translation Partner like SimulTrans can work directly with the XLIFF file exported and get a translated version of your eLearning course easily.
Remember to communicate with your eLearning translation company the following important information when you request an eLearning localization quote, so your eLearning localization project runs smoothly:
What version of Articulate you are using – most commonly it will be either Rise 360 or Storyline 360.

Whether you will have an XLIFF file or an MS Word file for translation.

If you also require translation of the label content – UI buttons such as 'Next', 'Previous', 'Accept' etc.

If the eLearning course contains Voice Over, confirm whether you want

translated subtitles or voice-over recording

.

If you also require a re-format /edit of the final course. If so, you will need to give access to the full .story files.

If you require

Right to Left languages

, these aren't properly supported by these platforms. This means that your translation partner will need to make code changes on their side after translation for the content to be shown correctly.
Step 2: Exporting Source Course Content
To localize your eLearning course, you need to export your course content from your platform. Articulate has embedded this export functionality into their software's interface to make it easier for you.
First, duplicate the course you want to translate so it can become the translated course.

Begin by clicking on the

Translations

tab; you will find it in the upper right-hand corner in Rise and in the

File

tab in Storyline.

Next, choose the

file type

you would like to export to. Rise exports XLIFF but Storyline supports exporting to Word and XLIFF 2.0. However, there are many third-party tools you can use to convert a .XLIFF document to .docx format if you prefer to use that format. For translation purposes, XLIFF is the winner.




Then, select the

Source Language

(that is the original language the course was developed in) of your course and confirm your action. You will then have a copy of your course's text ready to go for translation.

If closed captions exist for any

video content

in your course, these must be exported, translated, and uploaded separately from your main course text.

Don't forget that

trigger conditions

must also be translated manually from inside the software itself.

Labels must be exported separately. To export, simply open the course you want to edit, then click

Settings

in the upper right corner of the screen and select the

Labels tab

. Go to the drop-down list and hover over a label set. Next, click the download icon to export the label set to your computer. Don't forget to send it for translation along with the other files as they are not included in the main XLIFF export.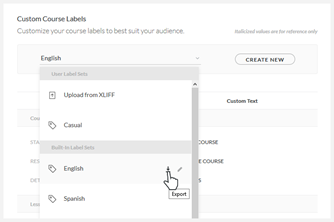 Finally, while variable values and references can be translated automatically using your translated XLIFF or Word document, variable names require manual translation.
Step 3: Importing Localized Course Content
If you have scoped your eLearning project correctly, then your project manager should be able to give you an accurate delivery date for each asset and you can in turn schedule a publishing date.
Here are the steps to take for importing your localized eLearning content.
Click on the

Import Translated Text

button on the

Translation

tab. Select the translated

XLIFF

or

Word

document and click

OK

to finish the import process.

Import the translated custom labels back into Rise 360. Go to the

drop-down list

at the top of the

label editor

, next click

Upload from XLIFF,

and upload the translated label set. Rename your translated

label and click OK.

Your new label set will appear in the drop-down list under User Label Sets.

Clean up the layout and verify that all slide references are still working or ask SimulTrans to do it for you.

Upload the localized voice-over or the translated subtitles if any.

Articulate's software will automatically create a translated version of your course.
SimulTrans makes it easy for eLearning companies to get interactive, dynamic eLearning courses localized into any language. We offer high-quality eLearning localization services from our European offices, using a combination of advanced translation tools, human translators, and customized translation workflows.
Contact us today for more information on our eLearning localization services to get your eLearning course localized.