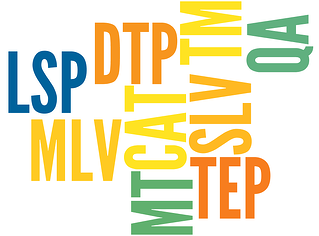 So, you have a project which is ready for TEP. Once you have selected your chosen LSP, you agree on a quote, calculated using the word count of your project, whether some words are 100% matches, repetitions or new words. All these results are leveraged from the source file using a TM, which is managed by the CAT team. For projects with very large word counts however, it may be more cost effective to use MT and then submit it for post-editing, rather than human translation from scratch.
Depending on the nature of your project, it may require some DTP work after translation, then it may need to be submitted to the QA team for a final quality check…
Anyone who is not familiar with localization may have used Google to interpret the majority of that paragraph, which is a 'tip of the iceberg' view of a typical translation process.
The concept of being 'lost in translation' in the translation industry is rather ironic, isn't it?
For those managing the localization projects in a company or considering working with a professional language service provider it may be useful to know some of the 'lingo' that we, in the industry tend to use, taking for granted that our clients will know exactly what we're talking about. Between you and me, most of them are not at all as technical as they sound…
LSP – Language Service Provider
A language service provider is a translation or localization agency, but it is a more of an umbrella term which suggests that the company provides additional services to translation alone. Simultrans is considered an LSP, as we also provide software localization and testing, audio/video localization e.g. voiceovers etc.
MLV – Multi Language Vendor: A company that provides services for multiple languages and combinations.
SLV – Single Language Vendor: A company that specialises in one language.
TEP – Translation, Editing, Proofreading
TEP basically wraps up the translation sequence in a nutshell, using TEP instead of just 'translation' is more accurate as it takes in the three main steps in a translator's workflow; Translation – the translation of a text, Editing – editing or implementing any changes, and Proofreading – A review of the translated text. These three steps are critical to delivering a high-quality result.
TM – Translation Memory
Not to be confused with machine translation (MT), translation memory is an essential software tool in localization. In short, a TM stores segments of a text that have been previously translated in order for them to be 're-used' in another translation. Any new text is then compared with the strings that have been stored in the TM from previous translations. The results of the analysis are divided into four components:
100% match (perfect match): These segments are an identical match to a translation that has been stored in the translation memory.
Fuzzy matches: These are segments which are similar but not identical to a previous translation, meaning that a translator may have to do a little work to edit the translation but not as much as if it were from scratch.
Repetitions: These words/segments are repeated throughout the text, meaning that they only have to be translated once by the translator and the TM will replace the repeated text with the translation.
No Match (new words): These are words which are completely new to the TM and therefore the translator will have to translate them from scratch. Each new translation is stored in the TM for future projects, meaning the more you work with a chosen vendor, the better value you will receive.
Of course, the translator can choose to accept or edit the terms stored in the TM if they feel a different translation is adequate, ensuring a high-quality translation.
CAT – Computer Assisted Translation
Also not to be confused with machine translation. CAT is a very broad term to describe when software is used to aid in the translation process and there are a wide range of tools that may be used under the term. Briefly speaking, the CAT team in a translation company are the people who manage the translation memories, analysing the files and making sure they are ready for translation.
MT – Machine Translation
For many people, these two little words invoke more horror than watching a Freddy Krueger movie at Halloween, and will have most people running for the hills, especially when it comes to professional documents for translation. Machine translation, or "automated translation," provides a very raw translated output with no human interaction. However, machine translation can be an effective tool when combined with human translation, as machine translation is capable of translating large amounts of source text into multiple languages. For projects with enormous word counts therefore, the use of MT followed by post editing (human translator proof reads and edits the output as necessary) can enhance productivity, and should not always be associated with the things nightmares are made of.
DTP – Desktop Publishing
Desktop Publishing is really the definition for anything that comes under formatting or editing the layout (text and graphics) to ensure that the target text reflects the source text when published. For example, if embedded text has to be extracted from a graphic in order to be translated, and then re-inserted once translated, this is the job of a DTP specialist. The DTP team will use several software programs, depending on which file format they are dealing with, e.g. Adobe InDesign, QuarkXpress, Abobe FrameMaker, Swift Publisher etc.
QA – Quality Assurance
Although sometimes overlooked by clients as an unnecessary cost, QA is a vital part of the localization process for certain projects. The role of a QA professional is to look at the product from the customer's perspective. In other words, go through the finished product with a fine tooth comb to ensure that there are no errors and that the target file is identical to the source text. QA is the final step in the process, evaluating the overall performance of a product or overall view of a document when translated. Carrying out a final quality check of a finished project, is like having someone, who has not been involved in the project at all, take an outside perspective and ensure that every detail is as it should be. This is very important for companies when publishing or selling translated material to a global audience.