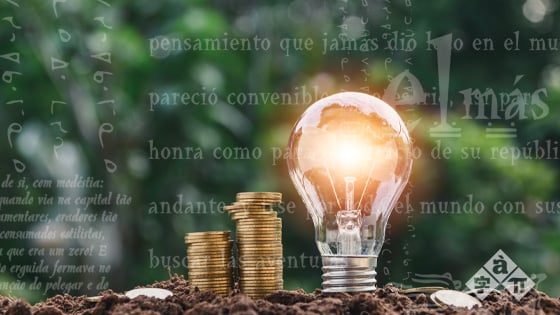 In this blog, we will discuss the 4 things that if you get right, will save you money on your next translation project.
1. Check the Source Content
A key element to a successfully localized project is the quality of the source material. There is a direct correlation between the quality of the source material and costs. Better quality source materials are easier to localize resulting in shorter turnaround time and cost. On the flip side, poor source material will take longer and cost more to localize.
What to look out for?
Inaccuracies.

If there is an inaccuracy in the source material, it should be fixed in the source file before it gets replicated in the localized files. This will avoid having to fix the issue multiple times in every language rather than once.

Inconsistencies.

Quite often source materials are a mix of software, manuals, online help, blogs, website pages, etc, and they are quite often written by a variety of contributors. From a translation perspective, the source content must be thoroughly checked to ensure the material is consistent, in terms of terminology, grammar usage, and writing style. Usually, inconsistencies are down to different styles of writing, for instance:

Writer A likes to say "Press X to do Y"

Writer B uses "Click on X to do Y"

Writer C prefers "To do Y press X"
All 3 writers are trying to say the same thing but as each sentence is different the cost of translating these 3 lines will be much more expensive than if all used the one style.
How to fix it
Inconsistencies among all the different elements of the same project (UI, Help, Doc, Blog) should be fixed before translation starts. A full linguistic review of the source content will fix this problem and avoid a cost overrun.
SimulTrans provides a linguistic review of the English source before translation begins, as part of the localization process for clients that need this service.
2. Know Your Company's Terminology
If you belong to an industry with a lot of technical or industry-specific terminology, you should know what these terms are. Have these term lists ready to be sent to your translation vendor to achive speed, accuracy and affordability.
What to look out for?
Product Glossary.

If you have a lot of technical / industry jargon in your material, a glossary of the main terms and their meaning will help teams understand their context and identify the best translation to use.

Do Not Translate Terms.

If you have terms that your company prefers to keep untranslated, including a list of product names, registered marks, etc. knowing these terms from the beginning will avoid over localizing and will save time and money.

Bilingual Glossary.

If you have a list of already approved translated terms that you use in-house, you should provide this bilingual list to your translation vendor.
How to fix it
If a glossary of terms is unavailable the latest Online Help could be a good alternative for translators.
SimulTrans can quickly create a monolingual glossary for your next project using the latest glossary tools within the Translation Memory System and then get it translated before the project starts. This glossary will then be uploaded to the translation management system (TMS) and will be used by any of the translators working on your project, ensuring consistency throughout your product and reducing costs.
3. Confirm the Scope of the Project
Some clients sell the product (UI) in English but provide localized online Help and User Documentation for their international customers or vice versa. So it is important to define the scope of a translation project before it starts.
What to look out for?
Untranslated User Interface Terms.

Discuss with your internal team first what strategy will work best for your company. The key question is whether or not to translate UI terms that come up in the online Help and User Documentation.

Screen Captures, Table, Charts, and Graphics.

If your company decides to translate the user interface but keep screen captures, tables, charts, and graphics untranslated, your translation service provider would need to know this from the very beginning.
How to fix it
Having confirmation at the beginning of the project of what parts will not be localized, will allow your translation vendor to discuss with you how best to handle this.
Here are 3 options:
Keep UI terms in English only

Keep UI terms in English, but add a localized version in brackets beside it

Localize the UI terms and have the English version in brackets beside it
NOTE: The above rules work for direct UI references, but indirect references should probably be localized.
SimulTrans works together with clients to come up with the best solution depending on the project. Once an option is chosen, then we use it in all languages for translation for that particular project.
4. Review your Translations
Many clients need a final client review as part of the translation project life cycle. This review is typically done by one of their in-house teams. This step can be easily accommodated as part of the localization process, especially if your translation project manager knows of this requirement at the beginning of the project, so sufficient time is allocated for this task.
What to look out for?
Preferential Changes.

Reviewers should be asked to avoid making preferential changes or going off-script as these can lead to inconsistencies and other errors. Some reviewers think that they must introduce a change even if the material is correct as is. Others add in extra sentences that are not in the source.

Conflicting Feedback.

Sometimes 2 or more reviewers may review the same material. If this happens, they need to be aware of the changes the other reviewer has introduced, to avoid conflicting feedback.

Clear Instructions.

A well carried out and thorough review could be wasted if the reviewers' feedback is not understood and is not easy to implement. Some reviewers add general comments such as:

"Change X" failing to point out where exactly they would like the change

"Change X to Y" but not saying if they want the change implemented throughout the entire project
How to fix it
The ideal reviewer will go through all the materials and if they want changes to be made, they should indicate the exact changes they want to be made and where they should be made in the document.
If the file is a PDF, then they can use the comment and mark up review tool: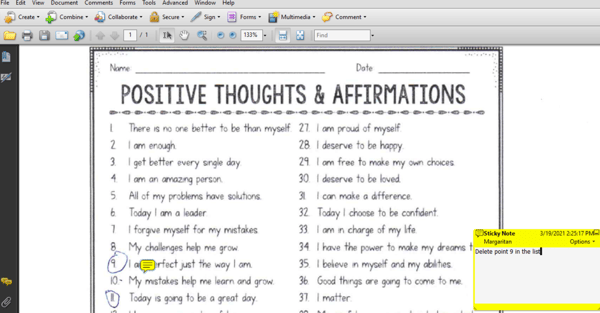 If the file is an MS Word, then they can use the Track Changes review tool:

If the file is in the Translation Management System, they can access it directly and fix it and approve it:

SimulTrans offers 3rd party linguistic review for clients that don't have in-house teams to carry out the review. This works well for most companies, but especially well for Life Sciences or clinical trials companies that require medical translation services and need to receive certified medical translations before their documentation or IFUs can be published.
If you would like to learn more about best practices for medical translations download our free eBook.