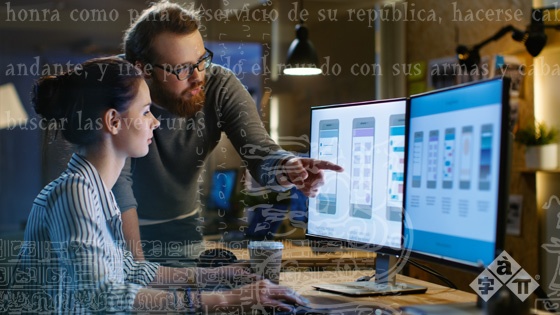 Software development across the world is speeding up and diversifying, paving the way for a higher need to translate software and make it localized for each foreign market. Groundbreaking and "disruptive" software is being developed for consumers and businesses that are more demanding, fast-paced, and more competitive than ever before. Because of the global potential of most software applications, software localization is a crucial step in targeting a global market.
What Is Software Localization?
Many people question: what is software localization. How do translators translate software effectively? Software localization is the process of adapting a software application for target audiences in foreign markets and typically happens once the software's development and internationalization phases are completed.
Unsure how to translate software the right way? Below are 6 key elements of comprehensive software localization that can help you boost sales, lower costs, and improve customer satisfaction.
How To Localize Software Efficiently
1. User Interface
Software translation usually starts with the localization of the user interface (UI). The reason why the UI is localized first is so that on-screen terms (e.g. menus, tips, dialog boxes, messages, etc.) can be incorporated into a translation memory and leveraged consistently for the localization of the other components such as the online help, user manuals, etc. Because the UI is what users engage with most, it is the most important component of software translation.
Localizing the user interface will allow your product will be more user-friendly in a global context, thereby expanding the size of your potential global client base.
2. Online Help
Because certain text segments from the UI (e.g. menus, tips, dialog boxes, messages, screen captures, etc.) are referred to throughout help files, the localization of help files is important. This is because it allows your global users to:
Learn about the software's features
Gain a deeper understanding of the software's functionality
Troubleshoot issues before contacting customer support
Localizing online help content is a huge part of software translation as it will encourage users to first refer to online help before contacting your customer support team, thereby reducing your technical support costs. Additionally, referring to online help may result in a better customer experience for these users, especially when your customer support team cannot help them in their language.
3. Installer
If you're looking to translate software, then you need to also think about localizing the installers as they are used to install the software application on your PC or mobile device or to update the software. A localized version of an installer will ease the setup processes of your software for global users. As installers play a role in the software's first impression on new users, localizing installers will give global users a better first impression of the software.
Localizing installers will allow for lower technical support costs as your end users will have easy access to software updates (with patches, improvements, etc.), meaning fewer inquiries made to your customer support team.
4. Software Demo
Localization of software demo (a.k.a. Demoware) content enables global customers to (literally) get a feel of the software and make a purchasing decision based on first-hand experience.
So why would you not localize software demo?
Localizing software demo content and making it available in global markets can improve demand generation for your upcoming product and build trust among global consumers, even before the actual software product is released in those markets.
5. Templates
Software localization of templates will allow global users to benefit from easy data input for select tasks, and to be able to create templates of their own to leverage the software most efficiently. Software templates are especially helpful for routine tasks that require use of the software.
By localizing software templates, the perception among users that the product is fully localized is enhanced, leading to higher customer satisfaction with the product. So, if you're planning to translate software, then templates should definitely be on your list.
6. Documentation
Localization of any documentation supporting the software is another key component. Documentation can include the following:
User Guide - explains how to use the product
Installation Guide – explains the installation of a software application
Admin Guide – aimed at admin users, explains the software features in greater depth and includes details on administering user accounts as well as on troubleshooting
Training Materials for all user levels
Localizing as much documentation (in addition to help files) as you can will make learning about your software product easier for global users when trying to use the software more effectively and for troubleshooting any issues.
Localizing this technical documentation enables global clients to learn about your product and troubleshoot issues independently, reducing your technical support costs. This instills a more global image of your company in clients, and is especially beneficial for markets where your company does not have a sales or customer support office.
If you are planning to translate software, keep in mind that, although it is perfectly fine not to localize all the different components, comprehensive software localization of your product will impact your global business growth in the following ways:
Boost your international sales
Reduce your technical support costs
Improve your company's customer experience on a global scale
Build trust among your global consumers
Increase customer satisfaction with the product
Expand your global client base
If you're looking to translate software, then you will benefit from our list of action items specific to software localization below, and be on your way to comprehensive software localization that can enhance your global business performance!