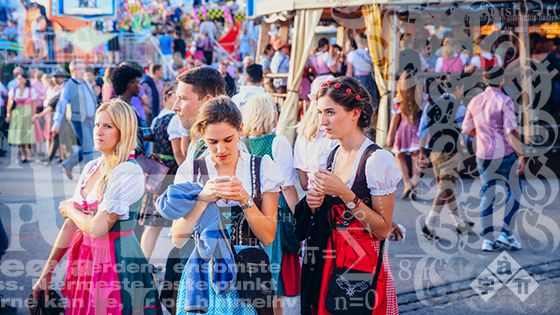 Germans wandering around the world-famous Oktoberfest, held annually in Munich.
It's no secret that Germany is a popular "jumping off point" for companies expanding into Europe. Germany is Europe's largest economy, most populous nation, and home to Europe's largest consumer market. This, along with its stable economic growth (1.7% in 2016) and geographic location at the center of the European Union, makes it extremely appealing to prospecting businesses.
Although Germany shines on paper, there are several challenges faced by product marketing and content marketing professionals when marketing to a German audience. High regard for credibility, lower usage of social media compared to other developed countries, and a growing reliance on mobile technology, to name a few.
Based on our experience working with companies expanding into Germany and on insights from our German office in Bonn, below are 5 tips for product and content marketing in Germany.
1. "Go Deutsch" – starting with a German website
"When in Rome, do as the Romans do." And when in Germany? That's right – think, act, and speak German.
Start with

website translation

into German so that you have an official platform to host content in German for online and social media traffic.

Include an ELV (Elektronisches Lastschriftverfahren) payment option on your website, as many Germans prefer ELV over other forms of payment.
Hire German speaking personnel to handle customer inquiries (either through a web chat feature, or via email or social media).
Make sure all customer facing personnel have a deep understanding of your product, its applications, and German code of conduct.
Offer remarkable, data-driven content on your website and in your documentation. The more "German" and knowledgeable you appear to be, the more appealing and credible you will be to a German audience.
2. Focus on Facebook, Xing, LinkedIn, and Google+
Social media usage in Germany is lower than in most other developed countries. 35% of the population being over age 55, a lower percentage of highly educated people on social media, and a general concern over data privacy are possible reasons for this.
Nonetheless, social media is a rapidly growing media source in Germany, especially among young professionals, and has contributed significantly to a higher awareness about foreign products and services. Over 80% of German millennials use social media with Facebook, Xing, LinkedIn, and Google+ being the most popular social networks.
Facebook controls over 90% of the German social media market and has over 27 million German users, and is used for both B2B and B2C marketing. Build a solid Facebook page

for your business and engage your audience in German!

Xing is Germany's version of LinkedIn and (with over 10 million users) is more popular than LinkedIn. 20% of professionals in Germany, Austria, and Switzerland use Xing. Because Xing and LinkedIn are both popular social networks among German professionals, we recommend establishing your presence on both.
Google+ is a good alternative to Twitter in Germany since German is very descriptive as a language so Twitter's 140-character limit makes content marketing difficult in German. Many German businesses with large numbers of followers are active on Google+. So, building a community on Google+ would be especially advantageous if you're engaging in B2B sales.
3. Be mobile-friendly and publish content that is data-friendly
According to a survey of German consumers in eMarketer, in January 2016:
74% of respondents use smartphones

43% prefer a laptop to go online for personal use
20% of respondents use smartphones the most when connecting to the internet
34% of smartphone users and 40% of tablet users spend more than 1 hour on the mobile web each day
In short – Germany is heavily reliant on mobile technology (this may be partly due to many German companies prohibiting access to social media sites), and this reliance on mobile is expected to increase.
Although Germany is well connected to the internet, mobile broadband plans are expensive, causing Germans to be selective about how they use their mobile data.
So, when marketing in Germany, make sure your website and social media pages are suitable for mobile access. Share content that does not require much mobile data (sharing videos and lots of photos would be unwise).
4. Show your integrity and credibility
Germans tend to care a lot about how personal information is used, and about the credibility of your business and the people behind it.
For starters, make sure you fully comply with German data privacy regulations and indicate that compliance on your website. It would help to get your website audited by TÜV, a German technical inspection association, and to receive an official quality stamp which you can display on your website.
To build your credibility, share content that is driven by data, case studies, and customer success stories and show your German audience you are an expert in your field. Lastly, identify content creators transparently (German decision makers often try to contact knowledgeable content creators). These tactics will help make your content marketing in Germany more successful.
5. Get into German shoes!
Germans tend to dislike marketing content that is uninspiring, exaggerated, or translated word for word. German marketing techniques and lingo are unique. It is important to be factual, tactful, and avoid sharing marketing content that is exaggerated – overly boasting about your product and/or putting down competitors will put a dent in your credibility.
Transcreation of marketing content so that German marketing techniques and lingo are employed will help your published content resonate with your German audience.
Entering the German market will undoubtedly take time, money, and perseverance. However, the size of Germany's consumer market and high spending power of Germans might make it worthwhile.
We hope the tips above help you enter the German market smoothly and successfully.
Get your foot in Germany's door through website translation with the special offer below!