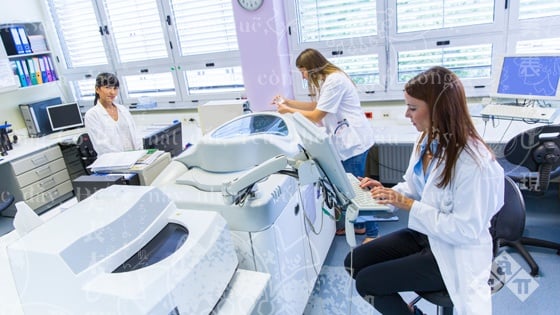 In many respects, the basic localization workflow for medical documentation translation is comparable to any other localization and medical translation workflow: file preparation, glossary creation, medical translation and review, desktop publishing, final QA. However, for content related to medical devices, there are a few additional things to consider. While translating medical terms is quite difficult and niche-specific, medical device translation requires a different set of skills altogether. Why? Because the translation of medical device manuals requires expert quality control.
Below are three key areas to decide upon before you start medical device translation:
User Interface Translation
If your medical device has associated software, then here are the different options on how to handle the medical translation (or not) of the user interface:
If you wish to translate the software terms (that is the user interface the medical teams will see on the screen), then it is advisable to translate the software first. Once the software is final, the user interface terms can be extracted and used as a reference for the translators to ensure they are translating medical terms used in the manual.
If the software will remain in English, then you must decide whether to leave the user interface in English, or leave it in English and give it a translation in brackets.
If there are button names or labels printed onto the medical device that will not be translated, it is important to let your medical translation team know so that translators can work with that knowledge. This can affect certain medical device translation decisions and should be discussed.
If there are other terms on the medical device itself that must not be translated (like button names or labels), it is important to know which these terms are before the project starts.
Also, a list of company names, product names, trademarks, diseases, syndromes, and medical acronyms in the industry used commonly in your company will be most helpful to translators and reduce the amount of research they have to do on each term.
Third-Party Reviews
After translating manuals, it is advisable to engage a third-party reviewer if the content of the medical device manuals is very sensitive.
These reviewers can be either:
Internal reviewers in your own company who have a strong understanding of translating medical terms and the device itself - and hence can advise on changes.
Re-sellers or in-country managers who have a good grasp of your industry as well as your own product, and can advice on certain aspects of the translation.
Third-party independent reviews done by your own translation agency (using a separate team of reviewers).
During review, if this is done early on in the project, third party reviewers can:
Catch problems (mistranslated terms or expressions).
Offer advice on how they would prefer your translation team to handle certain terms.
Suggest a change of terminology because it may match better with your own goals.
Multilingual Desktop Publishing
It goes without saying that at this point, the translated text should be considered locked down (meaning it has been translated and reviewed by a third party and any corrections have been implemented). This is important to reduce the amount of review passes that will be required on the final manual.
In terms of a delivery, you need to think about whether you want individual documents per language, a multilingual document with all languages appearing one after the other or perhaps several regional multilingual manuals with specific languages grouped together.
Depending on what your company needs as a final deliverable, there are some questions to consider before kicking off medical device translation:
1. Will all languages go into one multilingual IFU?
2. Do new front and back covers for the multilingual manual need to be created?
3. How will the languages on the covers be displayed?
Display languages in alphabetical order
Translate the words "Instruction for Use" first, then display each language
4. How will the table of contents (TOC) be displayed?

Display languages in alphabetical order
Display the TOC on the first page
Show on which page you find the language
5. Where on each page will the language be indicated?
6. Should the company's website URL appear in the printed manual, if so where? If yes, where:
Footer
Header
7. Can extra pages be added (if needed)?
8. Should each language start on the right page?
9. What page size will be used?
A5
A4
A3
10.What amendments for each manual are necessary?
Product name
Document ID number
Issue date
11. What file format (s) are required for printing?

Native file format (InDesign, FrameMaker, MS Word)
PDF
As translation schedules are often driven by product release dates and trade shows, advising your translation project manager on how you are planning to handle your user interface terms, whether or not you are planning to use third party reviewers, and what type of published multilingual manual your company needs, will be very useful and will avoid compressing final tasks like DTP & QA, hence saving you time and money.
Want to learn more about medical device translation and medical translation in general?
Download our free life sciences case study to learn about other ways to manage your medical translation projects.