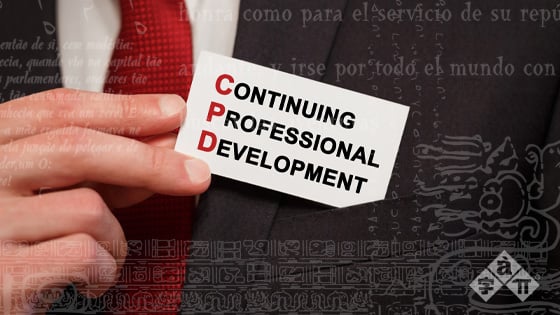 CPD stands for Continuing Professional Development. CPD is used to describe the learning activities professionals engage to learn and keep up to date within their industry.
For healthcare professionals in particular, If they work in a role that requires registration with a regulatory body in order to practice, then they will be required to keep their skills and knowledge up to date through CPD. Healthcare is a tightly regulated field, which means that failure to comply with these regulations can quickly lead to hefty fines, litigation, and even loss of certification.
Therefore, Continuing Education (CE) and Continuing Professional Development (CPD) programs are absolutely vital to help them stay one step ahead of the constantly changing policies and legislature that shapes this growing industry so they can continue to practice.
But it is also good to stay abreast of the current technological developments, healthcare trends, and the latest research breakthroughs when working in the medical sector, even if these courses are not compulsory, to make you a better healthcare practitioner.
So, when the well being of the patients (as well as the licensure of the staff!) are on the line, neglecting to maintain healthcare training can deal a critical blow to a practice.
Challenges
However, it can often be challenging for healthcare providers to set aside the necessary time to hit their annual minimum of CE/CPD credits. With full schedules and a dedication to their patients, these medical professionals often may struggle with finding the time to complete their required credits.
If the course they need to complete is not in their native language, this adds even more stress to these professionals!
Many countries are moving towards establishing a CPD framework in the medical and healthcare sectors. So, if you are a CE or CPD provider, you should consider offering these courses in different languages.
For instance:
If you are in the USA, it might be worth it for you to invest in the translation of your courses in Spanish (Latino American) and French (Canadian). This way you can get more customers interested in buying your courses and stay ahead of the competition.
If you are considering expanding into Europe, you will have to invest in translating your courses into German, French, Spanish (Spain), and Italian as a minimum.
We can help you to get your courses translated, including any software applications , documentation , marketing and even videos. Reach your international users with training content in their native languages. Talk to the educational translation experts today!