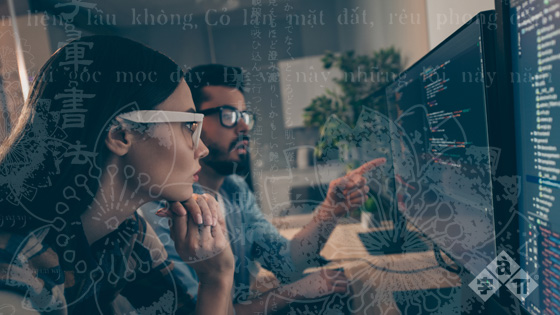 Knowing that your product can help people in a myriad of ways, why not further expand your offering? Why not let it cross countries and continents by translating it? After all, according to a CSA survey of 3,000 online shoppers across 10 countries 60% rarely or never buy from English-only websites.
When translating software into other languages, many more people will have access to your product or service. This is beneficial not only for the company, as opening up other markets will increase sales and get your product global brand recognition; but for the end-users as well as they will have access to more information, products, and benefits in their language, increasing their UX (user experience). After all, as shown below, 57% of consumers feel information in their language is more important than price.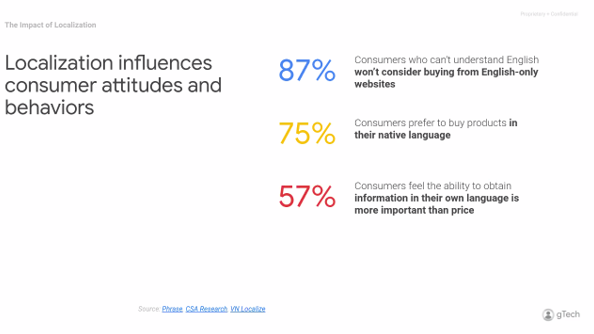 What is Software Localization?
When we talk about software translation, it is more accurate to talk about software localization. Software localization is the creation of locale-specific versions of a software application for users in other countries.
Although it sounds very easy to do, translating software does not just mean doing a literal translation of each word. Software localization requires expert translators, software engineers, software testers, desktop publishers, and project managers.
Examples:
to accommodate each language, user interface strings are translated

refinements are made to controls and format (such as CSS)

menus might need to be expanded

dialog boxes might need to be resized

some graphics might need to be changed to be more locale-specific
Software localization typically happens once the software's development and internationalization phases are completed.
How to Start Translating your Software
The first thing you need to do is find a software localization service provider with proven localization experience in a similar industry as yours.
As a Forbes blog says:
"Choosing a localization vendor is like dating, so choose well"
Then, ensure that your language service provider uses the best software localization tools.
Make sure that the tools they use can handle your specific file formats. Each software localization tool handles numerous and different software-related files.
Here are a few examples of file formats that are easily handled:
Check that the translators assigned to your project have previous experience translating software in the same industry as yours whenever possible. Like in any industry, there are product-related terms, jargon, acronyms, and expressions that must be translated accurately in the target language. A qualified professional translator with extensive experience will be able to recognize these terms and translate them accurately.
Finally, consider how and who will manage this project for you. Ask to meet the localization project manager assigned to your project.
You must be assigned a professional project manager with previous experience in software localization as this person will handle any issues or challenges during the project, determine the best approach, minimize risks, stay on budget, and meet the agreed delivery dates.
Engage a Professional Localization Provider
A language service provider (LSP) specialized in software localization will be able to offer you all the services required to complete a project on time and within budget. This means that you can benefit from:
Professional multilingual translation services, ensuring that your brand message stays consistent in your target languages on a worldwide scale.

Aggressive timelines as

all your target languages will be translated simultaneously to meet your

specific

deadline,

so you can release your product internationally at the same time.

Expertise in software localization that comes from experienced staff, the right tools, and value for money.
If you are considering software translation for the first time and need to discuss your software project with a professional translation agency in your area, contact us today for a chat.