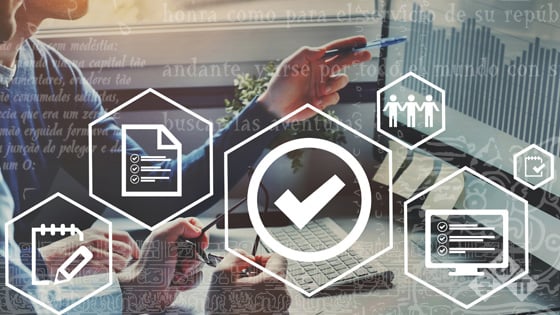 When selecting your language service provider (LSP), do you ask yourself if they have a Quality Management System (QMS)? Read on to learn what a QMS is and why it matters that your LSP has one.
What is a Quality Management System?
A Quality Management System (QMS) helps put in place the framework for your selected language services partner to recognize, track and resolve issues that could otherwise impact the quality they are delivering to you.
ISO 9001:2015 specifies requirements for a quality management system when an organization:
a) needs to demonstrate its ability to consistently provide products and services that meet customer and applicable statutory and regulatory requirements, and

b) aims to enhance customer satisfaction through the effective application of the system, including processes for improvement of the system and the assurance of conformity to customer and applicable statutory and regulatory requirements.
A QMS that achieves the ISO 9001:2015 standard certification assures you that the framework is of a particular level of excellence and is actively used and followed by your partners' team. This is key because having a framework for quality is one thing, ensuring it is followed is entirely another!
How is a Quality Management System Maintained?
At SimulTrans, the Quality Manager heads up the Quality Committee. The committee meets regularly to discuss quality-related topics, these include but are not limited to:
process documentation

company quality policy review

company quality objectives review

issue resolution

quality risk

opportunity management

and much more
Having all of this is great, but how does your localization partner ensure the team is following the correct quality practices?
Through clearly defined procedures that can easily be understood

Through project management systems that adhere to the requirements of the ISO standard

Through rigorous internal quality audits to continuously monitor team use of the QMS

Through exhaustive third party, quality audits to repeatedly achieve the ISO 9001:2015 certification
Tracking, Tracing, Resolving
When you find an issue with the translated files sent to you from your translation agency, what do you do?
Do you fix it yourself, accept it and move on?

Or do you report it to your localization service provider?
It is always important to report dissatisfaction, but especially so if the translation project is a medical project such as IFUs intended for patient use or medical staff use that must comply with medical device regulations. Without knowing that there was a problem, it can never be resolved.
A good translation partner will actively encourage this sort of feedback. But an excellent translation partner will log the issue in their Quality Database, investigate how it happened, and ensure a resolution is implemented.
This information should be readily available to you if you request it.
It should tell you:
how it happened

how it was resolved

how your partner is changing things to ensure it doesn't happen again!
Next time you are looking for a medical translation company in the US, schedule a call with a medical translation expert at SimulTrans.