Slow and steady wins the race... except with localization management that is. The problem with old school translation workflows? Your content is moving much faster than your translation processes... you are essentially tripping yourself up.
Over the past 5 years or so, it seems that translation management systems (TMS) have really taken the localisation industry by storm. In contrast to machine translation (MT), which I suppose has had its ups and downs over the years in terms of public perception, cloud based translation management software has been received well and is quickly becoming a "must have" technology for companies who are investing in translation.
Raising a total of over $63 million last year to invest in expanding their sales and marketing efforts, Smartling have seen growth of 2.5x year on year working with some of the world's largest companies such as Spotify, Snapchat, Pinterest and SurveyMonkey.

This whirlwind growth really is a reflection of the speed at which the connected world is growing. The localization industry is being forced to adapt quickly, as the need for engaging the consumer in their own language rises to the top of competitive business strategies.

It's a fact, we are more global today than ever before, and with a worldwide internet growth of 21% in 2015, website localization is becoming less of a choice an more of an obligation.
Research from Smartling last year showed that the average volume of content being translated by its clients increased by 88% in twelve months, which means we're certainly showing no signs of slowing down.

Translation management software provides an agile approach to the more traditional waterfall localization process, managing the overall workflow of everyone involved in a project. Using a TMS really is a breath of fresh air for both translation managers and translation companies, taking away all the moving parts involved in traditional localization workflow, which can be cumbersome and dare I say, stuck in the stone age?
Here are some of the benefits of translation management systems:
CMS integration

Translation proxy technology

Customizable workflow

In built Translation Memories,

Integrated glossaries

Project specific style guides

In-context website translation

Elimination of file transfer (FTP servers/file sharing sites)

Automatic reports and tracking
Although this type of technology is set to become the norm for international companies, it is understandable that the investment may not currently fit into every localization budget. I usually go through a simple little set of criteria to determine if a TMS will be suitable for a particular client, which I've broken down in the flowchart below… any excuse to get a little creative.
If you answer "Yes" to all of these questions, I would strongly advise that you consider investing in a TMS. An efficient localization system will significantly reduce time, increase overall quality and cut down on costs, which is always a plus!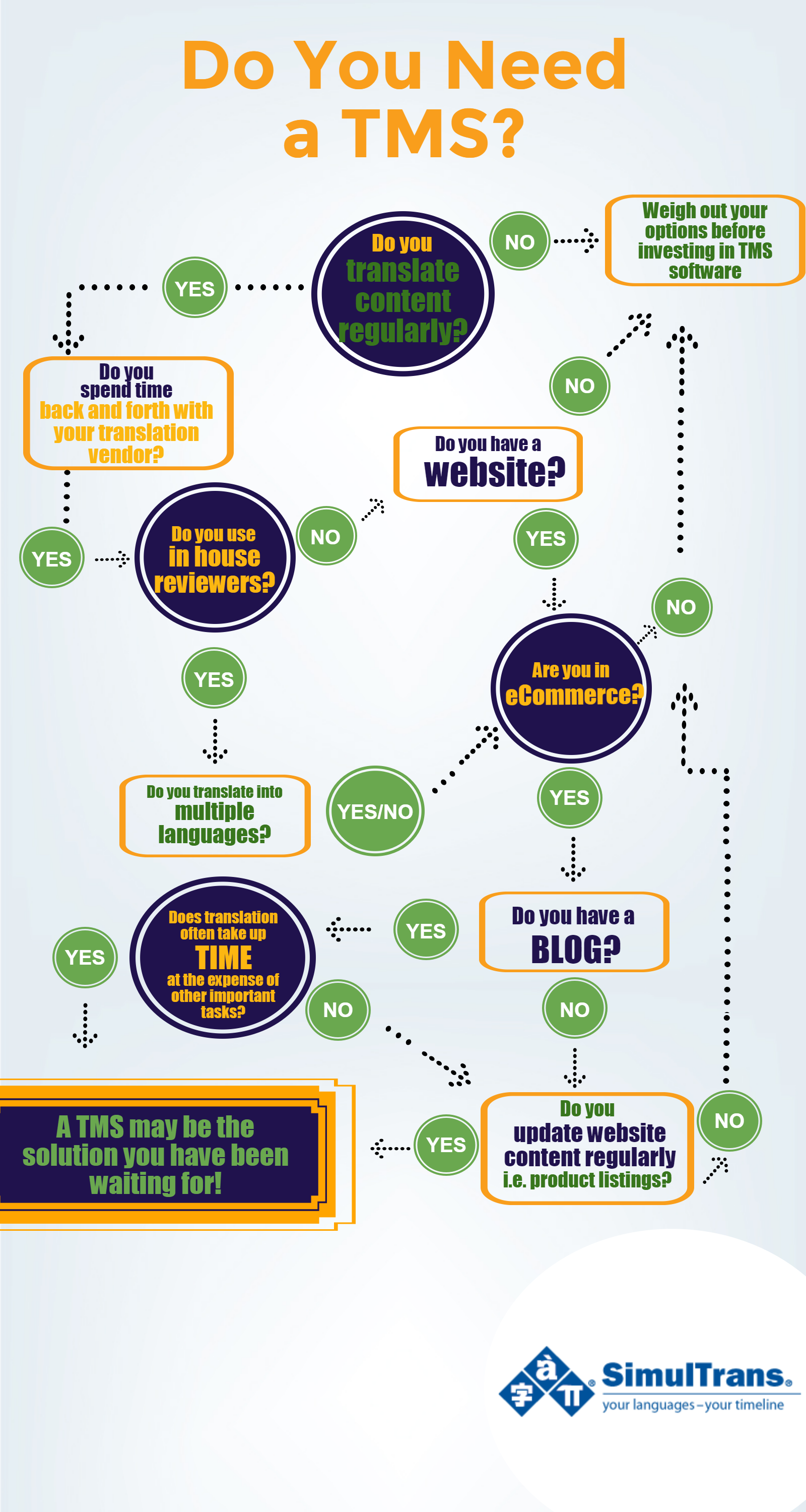 Need advice on which TMS you might need? Schedule a free consultation with one of our expert partners.