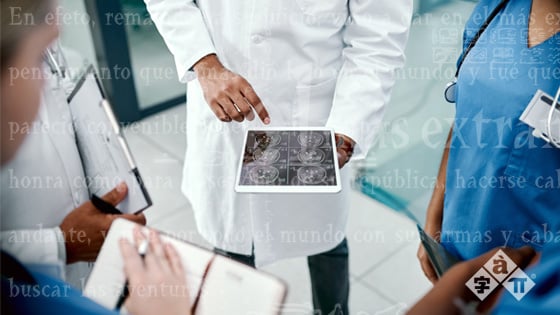 What do you need to do to translate your medical diagnostic project successfully?
Follow these seven steps from SimulTrans and find out how to achieve success.
1-Ensure your Source Text is of High Quality
The first ingredient to get an excellent translation is to ensure that your English source text is well written and free from errors and colloquialisms.
This isn't always the case because the text could have been written by:
a non-native English speaker at your company

someone who is not a writer and has other primary responsibilities

a group collaboration that could have introduced inconsistencies
To compensate for these scenarios, you can ask your translation services provider to undertake a linguistic review of the source text. This review is usually done by a qualified subject matter expert, and it should be the first step in the translation process.
During the linguistic review, the subject matter expert will:
correct any incorrect grammar

harmonize style throughout the text

apply correct spelling to the entire text (either US or UK)
2-Provide a List of Terms Before the Project Starts
At this early part of the process, you can also create a glossary of key terms, if you do not have one. Next, the terms can be translated by your chosen localization partner, and then sent to you if you wish, to sign off. This step allows you to get ahead of any medical diagnostics-specific terminology queries that could come up during translation.
If you have a glossary, new terms can be added and then translated.

If your company has approved translations for some specific terms that differ from the wider industry, then this list helps ensure that the translators will be using your preferred terminology, instead of any other possible standard translations.

If you have a list of terms that must not be translated, like company names, product names, trademarks, by-lines, logos, chemical names, etc. sending this Do Not Translate list is also a good step at this point. This way translators know not to translate these terms and they can also be excluded from the word count for translation.
3-Communicate Early on Whether the Software Needs Translation
If your medical diagnostics product has a software component that will not be translated, your translation partner should know this at the very start.
For instance, buttons with labels or the software itself might be left untranslated. Have a clear plan and communicate whether they should :
Leave terms in English in your translated manual

Leave terms in English with the translation in brackets

Translate terms and leave the English in brackets
Considerations like these are key to ensuring that everything from your software, to your medical device, to your user manual, to your online help make sense together without conflicting translations.
If your user manuals or instructions for use have screen captures from the software, whether your software will be localized or not could have an impact on the final deliverable.
If the software stays in English, then provide all relevant screen captures at the beginning of the project.

If the software is translated, decide whether you can provide localized screen captures for use in the translated manuals at the right time, so you do not delay the project.

If you cannot, discuss with your localization partner if they can create the localized screen captures themselves using your hardware (onsite) or remotely.
4- Decide on a Review Strategy
If your internal team does have the capacity to review the translated text and would like to see specific changes applied to the translations, it is important to communicate this with your translation partner at the beginning, so they can allocate time for the client review.
There are several ways a translation workflow can be tailored to your teams' requirements depending on when they would like to review the text during the translation process.
Here are a few examples:
Review the first few thousand words of a translation project

Review before the translation goes to be formatted into an InDesign

Review before the translation goes to the 3rd party reviewer

Review the final PDFs before they go to the printer
Each situation can be different, so talk to your localization partner about a review process that works best for you and your team.
5- Include a Third-Party Review when Necessary
Your localization service provider should be able to offer you third-party, independent reviews of the translations that their initial team provided. This third-party review is carried out by a different team. The aim is to comply with certain regulations so that your medical device passes and can be sold abroad. A third-party review ensures that the translation faithfully represents the source and any discrepancies are resolved before it goes to the patient.
This may not be a step you need every time, but it is certainly one worth considering if you can't perform local reviews internally. Using your localization partners' wide network of local subject matter experts can reduce the review effort of your internal staff who may have other full-time responsibilities.
6-Give Instructions for Print-Ready Deliverables
If your localization partner is also performing Desktop Publishing which is the formatting or laying out of the translations in FrameMaker, InDesign, etc. and ultimately delivering your print-ready manual, you want to ensure that you have provided them with the correct information, so there are no delays at the printing stage. Here are the most important:
Part Numbers:

Provide the correct part number and revision number for your translated versions of your user manuals, labels, flyers, etc.

Print Instructions:

Check whether your printer needs files with crop marks and bleed or not.

Pages:

Check whether they need single pages or multiple pages. If it is a multilingual IFU, check what order the languages should go in.
You can also put your printer in touch with your localization partner to ensure the final deliverable is exactly what you need.
7-Select an ISO Certified Translation Service Provider
Ultimately, selecting the right localization partner with the relevant ISO certifications will ensure a successful translation project.
ISO 9001 certification ensures there is a well-documented process and that it is followed consistently.

ISO 17100 certification aims to standardize terminology, define basic requirements for services, and create a framework for interaction between customers and service providers.
Next time you have a medical diagnostics product that needs to reach international patients and medical practitioners, reach out to SimulTrans.