SimulTrans is a HubSpot user and localization provider. Our handy connector will save you time.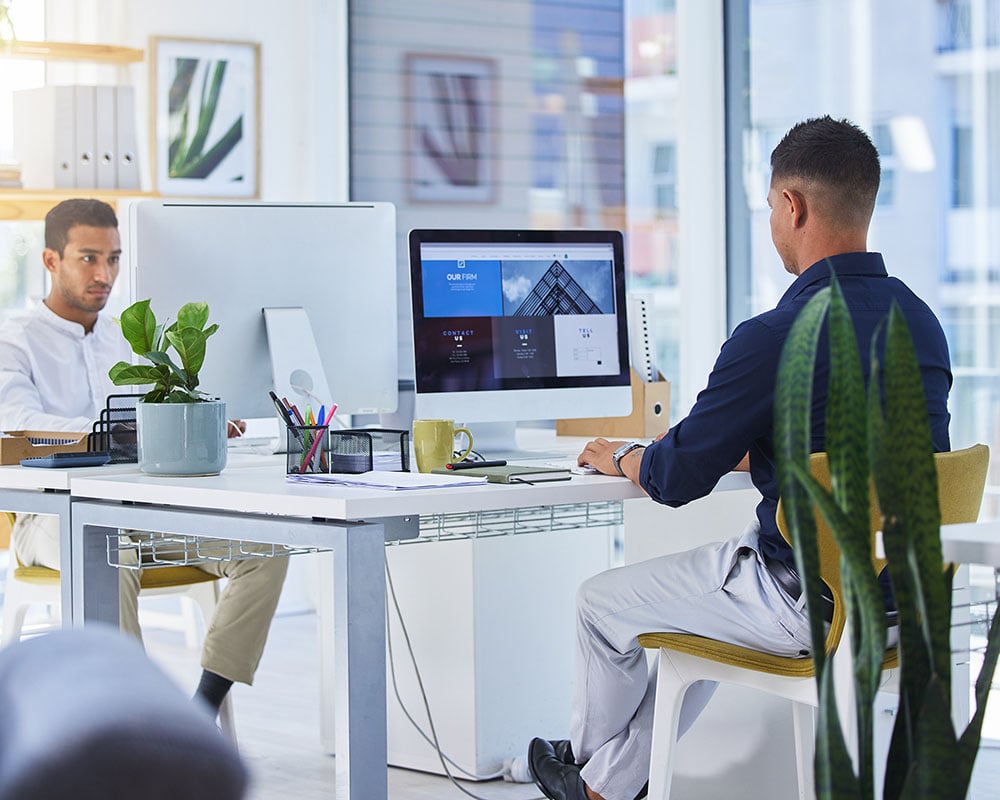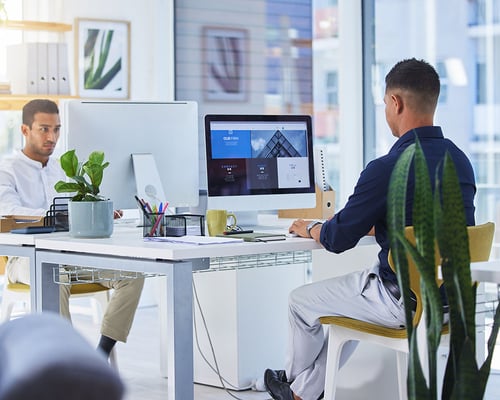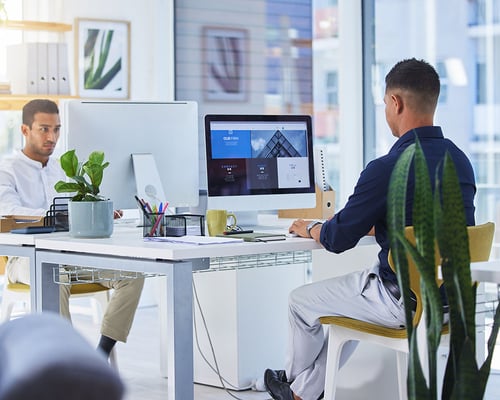 SimulTrans is a HubSpot user and localization provider. Our handy connector will save you time.
Looking to translate a HubSpot website? SimulTrans makes it simple via our integration with HubSpot. Using SimulTrans, you can build and translate any type of multilingual website.
SimulTrans' HubSpot connector is fantastic! We used it to translate the SimulTrans website and were impressed by how well it worked. It saves the time, hassle, and risk of manually copying and pasting text into localized pages.
You don't have to export, import, and track your files. We connect our translation management system directly to your site, so you can easily request and publish translated content.
SimulTrans has been HubSpot's localization partner since the beginning. We created and maintain the international-language versions of the HubSpot application, giving our team a deep understanding of the technology and terminology.
SimulTrans helps businesses translate HubSpot websites of any size into over 100 languages. Our experienced native professional translators are backed by our ISO-certified quality management system and supported by our experienced project managers.
HOW IT WORKS
Translating a HubSpot site with SimulTrans
Connect SimulTrans to your HubSpot website
1.

Create an account for SimulTrans in your HubSpot instance. We will send you the username you should add along with detailed instructions for setting the appropriate permissions.

Get HubSpot connection details

Get HubSpot connection details

2.

As soon as we connect to your HubSpot instance, we will confirm the link and let you know the content for translation can start flowing.

click to expand

Request a quote for your translation project
1.

Let us know which assets you would like translated and which languages you want to target. We can gather website pages, landing pages, themes, blog posts, emails, and forms through the integration.

2.

SimulTrans will analyze your content and compile a free quote.

click to expand

Translate your website content
1.

Once you've approved your quote, a SimulTrans project manager will assign your content for translation based on your schedule.

2.

SimulTrans' expert linguists translate your content into your requested languages, and our reviewers check each translation for terminology accuracy and linguistic style.

3.

Translations are automatically imported into your HubSpot site as language-specific pages, ready for publishing.

4.

When you have more content to translate, SimulTrans can obtain it automatically through our HubSpot integration tools. We can initiate translations whenever pages are updated, on a weekly or other regular (or sporadic) basis, or wait until you tell us it's time for an update.

click to expand

SimulTrans makes HubSpot website localization easy
We automate the export and import of content into your HubSpot site, so you never have to copy and paste content or email files back and forth.
SimulTrans' expert human translators, localization engineers, and project managers have the marketing and technical knowledge they need to ensure your project runs smoothly.
Translation memory and glossaries are integrated into the translation process, saving you time and money and improving consistency when translating new or updated web content.
More insights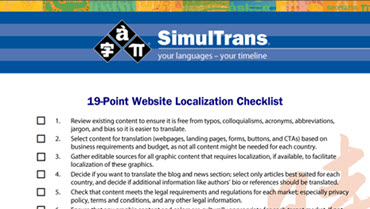 Website Translation
19-Point Website Localization Checklist
To localize your website effectively, you need to consider internationalization challenges, here is ...
Download now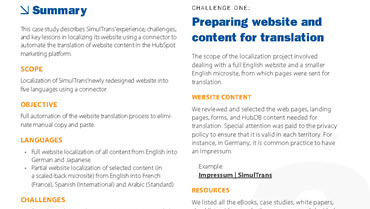 Website Translation
HubSpot Localization Case Study
Download our case study. Read about the three main challenges we faced during the localization of ...
Download now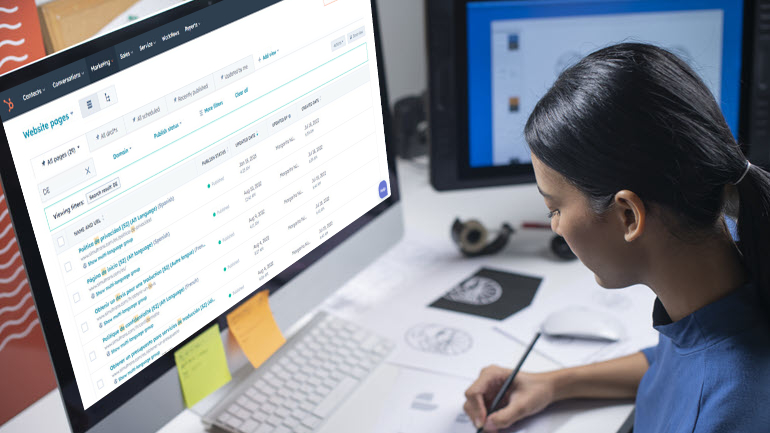 Website Translation
Steps for Hubspot + Phrase Integration
Do you use HubSpot as your marketing platform? Are you considering Translation Management Software ...
Read now

Frequently asked questions
How much does HubSpot website translation cost?
Costs vary by language, typically corresponding to the cost of living in the target countries (for example, translation into Simplified Chinese is about a third of the cost of translation into Swedish). SimulTrans provides discounts based on repeated text by leveraging translation memory. Costs for formatting text and editing graphics or videos are calculated on a per-page basis.
Read this article for more information about website translation costs, or skip right to our estimate calculator.
How long does HubSpot website translation take?
Timelines depend on two factors: word count and team size. Each translator usually translates about 2,000 words per day, and our translators work simultaneously so the number of target languages won't impact your timeline. Some additional time is required for formatting and testing.
We can accommodate almost any timeline by scaling your translation team. A typical team can have three translators and two reviewers per language, while some projects have over 100 translators per language!
Because websites grow and change, website localization projects are typically ongoing, with updates made monthly or even more frequently as needed. Your SimulTrans team will develop a custom workflow to support your ongoing website translation program.
Does SimulTrans translate SEO keywords?
Yes. Because speakers of different languages use search engines differently, keywords in one language may not be optimal in another. SimulTrans identifies international SEO keywords during the glossary development phase prior to translation of core web content, and applies these keywords consistently throughout your site. We can also work with predefined SEO keyword lists.
What is HubSpot Translation Management?
Translation Management is a feature of SimulTrans' HubSpot integration which helps with the administrative work of localizing complex websites. It enables users to request, manage, publish, and pay for translated content without copying and pasting text or sending files back and forth.