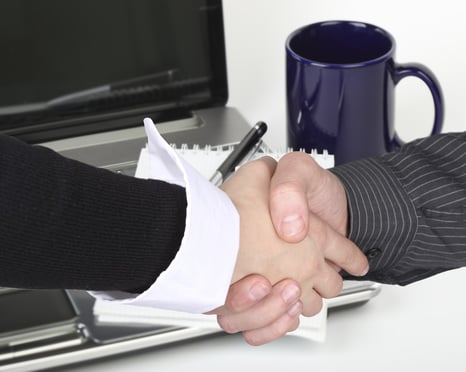 Contrary to popular belief, not all translation companies are created equal, so the right partner for one person, may not be the perfect fit for another. It is essential that whatever type of translation company you choose to work with, is equipped to meet your company's demands and future needs successfully.
Unfortunately, there is no "one size fits all" approach in choosing a vendor, so it is important to establish your translation goals first before attempting to choose an LSP.
Here are a few things to consider when choosing a translation services provider to help you get that little bit closer to finding "the one"

1. Can we handle our translation requirements internally, or is it in our best interest to outsource the work to an LSP?
This is a tricky one, because many companies think that if they manage translation internally, that it will save them time and money. However, trying to manage an internal localization process can go pear shaped very quickly if you don't have the resources to manage it effectively.
Choosing the best solution includes considering factors such as budget and time. It can also depend on if translation will become an essential company effort or if it is just a minor, one-time event – not requiring much investment on the company's part. Will you seek out a vendor or is your team willing to oversee an internal translation process? Be sure to consider risks, opportunities, costs, and the time involved with managing translation resources when deciding on handling translations internally or outsourcing.

If your company has the budget and time to handle translation internally, then this is a route you may want to explore. Depending on the scope of the languages and project sizes, the work involved when an employee takes over this responsibility can become very time consuming, at times a full-time obligation.
There are costs involved with hiring, training, and managing resources to execute and oversee the translation process. Special translation software may also have to be purchased in addition to licensing fees, creating further support costs. Increasing the number of languages also increases the demand for new language resources and needed budget.

Translation projects today can be very complex. Outsourcing translation ensures the ability to choose a vendor which satisfies the company's translation requirements and understands the workflow and processes. Can the vendor fit in with the current internal process? Can the vendor ensure the same resources work on your on-going projects? Realize that internal processes may need to be combined in order to integrate the translation process efficiently. IT infrastructure may need to be developed to aid in file transfers.

In all cases, it is recommended that each company have an internal reviewer capable of understanding the message in both source and target languages. The reviewer should be involved with approving or editing the translations, so that the translation team can better understand language preferences and styles, improving translations in the future.


2. Make a shortlist of the factors most important to you

Consider everything that you want in your perfect translation company; for example, quality, turnaround time, price, in-house capabilities, and level of translator expertise. Many of these can be measured and compared from one vendor to another. All of these attributes may not coexist within one LSP, so be sure to rank their importance to find the best fit.
Other key considerations when selecting a vendor may include reviewing sample translations and requesting client referrals to get a better idea of the LSP's capabilities, strengths, and weaknesses.
3. What methods of translation will be most effective for our business needs?

Also consider what the best method(s) of translation may be to meet your specific needs. Do you require human translation, machine translation, a combination of the two, or crowdsourcing? Working with a mixture of these methods may be your best option, so it's important to seek out a vendor that both understands your full requirements and works with you to make improvements for the future.


4. The largest companies won't always meet your needs

Each of the LSP sizes offer different and specific benefits that should be understood.

Small LSPs may employ around 20 people, work out of a single office, and may not have in-house capabilities for services such as engineering and desktop publishing. Don't fully discount them for all needed services, as they may have established relationships to outsource these tasks. Their per word rate may be the lowest, but they may also only translate into one specific language.

Medium-sized LSPs typically average around 60 employees and specialize in several target languages. These vendors typically have limited resources, so they are able to focus on niche markets, in turn developing deep industry knowledge. They're technically capable in many areas although they may not be advanced in all of their in-house services.

Large LSPs usually have multiple employees spanning many global offices, ensuring a substantial resource database where they can pull resources for any language. Their services cover several industries, and they are capable of managing projects of all scopes and sizes; for example, eLearning and multimedia, engineering, subtitling, transcription, and audio voice over recording. These vendors offer many in-house capabilities and are adept at handling large-scale projects.

Before establishing an answer to this question, be sure to understand your own requirements. Which languages are needed? Should each language be handled uniformly or is each global market's strategy independent of each other? Do you request that the linguists are industry experts with advanced translation backgrounds? Once you identify and answer these preliminary questions, you can more easily chose if a small, medium, or large vendor is best for you.


Has this helped to narrow down your choice? If not, download our Free PDF with 43 questions to ask in a Localization RFP.