Simply put, voice search uses the power of speech recognition to search the web! So instead of typing what you want into your device to search online, you can use your own voice. The technology will understand your natural language and easily and quickly search for the specific item you want. Voice Search is fast and easy ! It makes searching for the content you want fun.
Uses of Voice Search
You can dictate! Imagine dictating your essays, letters, or novel on Google Docs.
You can comment! No need to type anymore, you can add your voice comments on social media
You can search! Just clicking on the microphone and say the item you want.
And with accuracy improving rapidly, we can expect voice search to increase year on year.




Image: KPCB 2016 Internet Trends
How to access Voice Search
Voice Search comes pre-loaded with the following default services by these main providers:
Google - Google Assistant with the Google Home product (powered by Google)
Amazon - Alexa Voice Assistant with Amazon Echo product (powered by Bing)
Apple - Siri Voice Assistant with the HomePod product (powered by Google)
Microsoft - Cortana Voice Assistance with the Invoke product (powered by Bing)
Baidu - DuerOS Voice Assistance with the Raven H product (powered by Baidu)
Yandex - Alice Voice Assistance with Yandex Station product (powered by Yandex)
Naver - Clova voice Assistance with Wave product (powered by Naver)
Thanks to the increased rise in voice-activated technology I believe voice search will become the new standard in the next few years.
Advantages
The advantages of using voice search are:
It understands natural language
It is easy to use
It works
Here are the reasons why people are using voice search: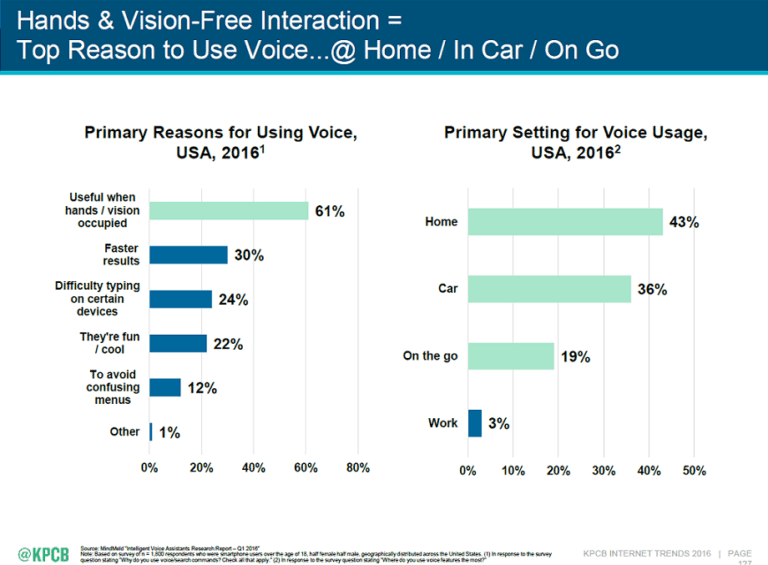 Image: KPCB 2016 Internet Trends
Who would be the potential end users?
Everybody really!
Shoppers definitely but I also believe that it will be specially interesting for people with learning disabilities who might not be able to type and read making search for them much easier; or for people with chronic pain from rheumatism on their hands, who might find it easier talking rather than typing.
General Voice Search Statistics
Here is a list of stats from Wordstream's blog worth reading in detail:
50% of all searches will be voice searches by 2020, per comScore.
About 30% of all searches will be done without a screen by 2020, per Gartner.
13% of all households in the United States owned a smart speaker in 2017, per OC&C Strategy Consultants. That number is predicted to rise to 55% by 2022.
There will be an estimated 21.4 million smart speakers in the US by 2020, per Activate.
The voice recognition market will be a $601 million industry by 2019, per Technavio.
One-in-six Americans (16%) own a voice activated smart-speaker, per Edison Research and NPR.
As of January 2018, there were an estimated one billion voice searches per month, per Alpine.AI.
What can you do as a company to capitalize on Voice Search?
If you are making changes to your digital marketing campaign, adding SEO, Adwords, etc. make sure you also add voice search. More and more people in all walks of life are using this technology to browse and shop online.
People who use voice search are readier to make a buy than those researching information on a desktop.
This is because they are usually looking for products, services or making an appointment that they need immediately, such as a coffee shop, or a hairdresser or a dentist appointment.
What to do in terms of Localization?
People use natural language for Voice Search, so your company needs to optimize its website for voice search. Start by figuring out if your SEO keyword list is still usable. Then consider a new list that reflects a more natural language and don't forget to get it localized.
if you enjoyed this blog and would like to get more industry related information, please click on subscribe and you will receive monthly updates.