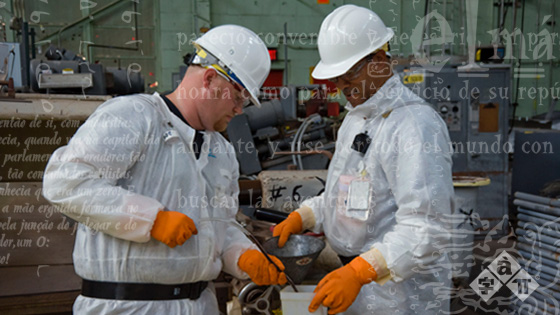 Nowadays, Health and Safety solutions are common or taken for granted in many parts of the developed world. For instance, better-lit offices, properly ventilated factories, enclosed high-security areas, and personal protective equipment (PPE), are the direct result of the efforts of many companies and experts working in the field of health and safety.
With a focus on safety, prevention and intervention solutions, and continuous training of personnel, the occupational Health and Safety sector is responsible for protecting people and the environment.
A combination of state regulations, EU legislation and self-regulation of responsible companies has helped to change today's work environment. So the once poorly ventilated factories and dangerous machines, have largely turned into cleaner and safer environments for workers. As a direct result, accidents and work-related death rates have declined steadily over the years in key industries, a trend which fortunately continues to this day.
Translations Support Health and Safety
Historically, efforts to improve Health and Safety at work have focused on manual jobs such as factory workers. Nowadays, this field currently includes all types of professions and many different work environments, spanning a diverse range of disciplines, including epidemiology, toxicology, violence prevention, ergonomics, to name but a few.
Here are a few examples of how translation improves Health and Safety.
Translation of security documents. Imagine that foreign workers from all over the European Union visit a chemical plant in Germany and all safety instructions are only available in German. There would be no understanding of the safety-related content for these visitors.
Localization of teaching and learning materials. Many companies operate globally and offer their employees eLearning and video courses to train on Health and Safety related topics. This training includes handling personal protective equipment (PPE), guidelines for lifting heavy loads, or procedures for investigating accidents /incidents. Translation here is vital to the correct usage of the PPE in particular or following procedures in general.
Translation of hazardous substances and product information. The correct handling of hazardous substances, the precise use of machines, or the correct disposal of protective gear, are part of Health and Safety. In this regard, offering multilingual information ensures protection for the worker as well as the machine's correct usage.
Added Value
Millions of people worldwide suffer from severe forms of work-related illness or injuries, and millions more are exposed daily to different types of environmental risks. These risks can cause problems for years to come and lead to accident claims from insurance companies. Most employers and institutions are willing to adopt the latest Health and Safety regulations, not only for ethical reasons, but because illnesses and injuries lead to other types of indirect expenditure such as:
higher costs
lower sales
loss of productivity
higher health insurance premiums
The return on investment (ROI) in occupational Health and Safety is usually so high that large organizations invest in their own Health and Safety initiatives that go beyond the legal requirements.
Importance of Correct Translation
Sometimes it is legally required to effectively and correctly translate important documents into the mother tongue of the target audience - a particularly prominent example are the new requirements of the European Union Medical Devices Regulation (EU MDR) .
There are also legal pitfalls in other industries and work environments that need to be considered. From a legal perspective, if someone is injured in a high-risk area, the court is likely to be interested in learning about the safety materials and instruction available to that person (and in a language that it is understood) prior to the injury. Finally, all parties are better protected if the appropriate security policies and procedures are available in the various languages of all parties.
In addition to translating the standard text in user manuals, it is important to fully localize all other messages such as:
Drawings, illustrations, and diagrams to explain processes and technology
Flow charts to explain processes, procedures, and instructions
Maps to explain area layouts, exact locations, and evacuation procedures
Photographs showing dangerous areas, construction sites, and equipment handling
Such manuals use the combination of illustrations and formulas to convey details in a simple and easy-to-understand way. The most effective warnings or safety materials convey their crucial messages through minimal text and easily understandable graphic messages. These are very useful for all those who speak different languages.
Translation Challenges
Translating Health and Safety solutions is not always easy. There are languages in which there are no specific terms or technical terms that match the words used for that industry or workplace.
If you are creating Health and Safety materials, these should be clearly written and contain explanations of difficult or ambiguous terms, to express the meaning clearly and aid translation.
As for security materials, it is extremely important to ensure that the translated materials convey the correct wording and nuances. For example, female and male names in English can have different translations in other languages. Many of the common idioms that are often taken for granted in a source language make no sense when translated into different languages. Confusion or ambiguity increases the risk of serious injuries and possible accidents at work.
Conclusion
When done correctly, translating Health and Safety solutions helps keep workers and the environment safe and protected at all times.
If you would like to learn more about the translation of Health and Safety documentation in different languages, we are available with free advice.