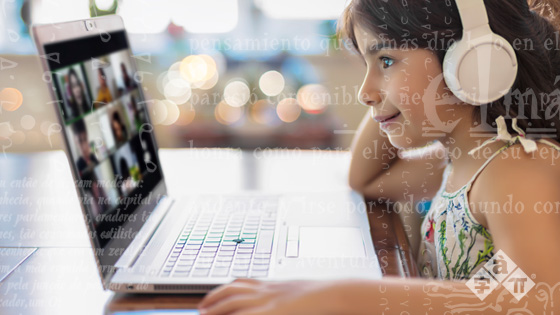 eLearning is undoubtedly the hottest topic in the education industry at the moment prompted by what some have called 'the biggest distance learning experiment in history.' This explosion in virtual education may have produced permanent changes in the way students are taught worldwide. With the right course content available and translated into the students' language, it may be possible for education to become faster, more personalized, and more effective than ever before.
Localization of eLearning Materials
eLearning requires different tools, techniques, and skills than teaching in a regular classroom. Maximizing accessibility by including the localization of eLearning materials is key to the success of online learning.
Digital education and course material can and should be delivered any time, anywhere, and in any language.
Mobile learning, or mLearning, has become increasingly popular with students of all ages as it allows them to learn on the go on their mobile devices.
40% of American parents

feel that having all lessons available in video format for their child to review at any time would be helpful to their learning.

Massive open online courses, or

MOOCs

, experienced an

enormous boom

and now boast more than 180 million global users across all platforms.

A study conducted by Wiley Education and Aslanian Research found that

63% of students

who chose to learn online decided to do so to fit their educational commitments into busy work and family lives.
Translation of Digital Learning Content
The shift to eLearning in education is a global phenomenon that brings together students from all cultures and walks of life. Translating all different types of digital learning content and the eLearning platforms will greatly extend their reach and make their content accessible to a global audience that is hungry for information.
Here is a list of digital learning content that is typically translated for an eLearning course:
Learning Management System Content
Quizzes and Tests

Mobile Learning Applications

Presentation Slides, Notes, and Handouts
Student and Instructor Guides
Technical Documentation
Pre-recorded Lectures
Simulations and Roleplay Videos
Games, Activities, and other Interactive Elements
Online education companies offer online learning platforms and course content in dozens of widely-spoken languages. Their commitment to providing quality localized materials for non-English speaking students is part of why they have been able to achieve such widespread popularity.
Here are three of the top online learning platforms.
"Around each one of our courses, a community of students had formed, a global community of people around a shared intellectual endeavor."

- Dr. Daphne Koller, Co-Founder of Coursera, 'What we're learning from online education.'
Translation of digital learning content into just a few high-value target languages can significantly improve its profitability and usefulness.

SimulTrans specializes in the localization of eLearning courses for the education industry, from the translation of microlearning courses, for small learning units and short-term learning activities, to localization and voice translation of eLearning projects for governments.
If you have an upcoming eLearning project that needs translation and video localization, then reach out to a SimulTrans office near you.