May 2, 2017 / by Mark Homnack Estimated read time: 5 minutes
SimulTrans' New Office in Germany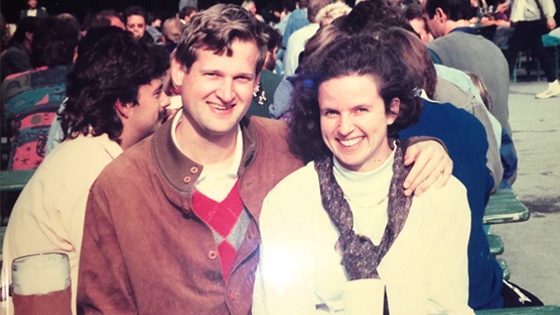 Mark and Nina Homnack at a beer garden in Munich in 1984, when SimulTrans was founded.
I have always admired Germany.
For example, when growing up and playing piano, I always heard about the "Three B's" – Bach, Beethoven, and Brahms, all Germans.
When older and studying philosophy, I gravitated to even more Germans – Kant, Nietzsche, and Schopenhauer. I even have fond memories of "dry and boring" Hegel (as I met my German wife Nina in a Hegel seminar, revealing that other aspects of German culture interested me more than philosophy).
Together with my wife Nina, my first business before SimulTrans was a German bread-baking business called "Fräulein Becker, Baker of the Rhine." And our first translation project was from German, my major in college and thereafter. This first translation led to the birth of SimulTrans.
Therefore, a long-term fan of Germany, when the opportunity arose to acquire a translation company in Germany, I jumped at it.
Acquisition of Delta, in Bonn, Germany
Since 1984, we at SimulTrans were always focused on organic growth, powered solely by the desire to satisfy customers and re-invest profits.
However, over time we realized that a compatible translation company in Germany could help us satisfy customers who have needs in Europe's #1 market. For example, when U.S. companies do business in Germany, they might want their German team to review our translations, just like they do through our office in Japan (Asia's #2 market).
At the end of 2016, SimulTrans purchased a majority interest in Delta, that will increase to 100% in the next years. Delta is now a member of the SimulTrans family of companies, that include offices in Ireland, Japan, Boston and Silicon Valley.
SimulTrans' team in Germany, still known also as Delta, can now better support SimulTrans' customers in the North America, Europe and Asia, also by undertaking translations from and into German and many other European languages.
In addition, because Delta has been in business since 1998, the company has developed strengths in industries where Germany is a world leader, like manufacturing, chemicals, automotive, solar, and construction technology.
Delta's Strengths
Of course Delta is powerful in SimulTrans' core area, software localization, with long-term IT customers such as IBM and CA. Like SimulTrans, Delta's CEO Gerhard Wagenpfeil was one of Microsoft's largest localization vendors; through this common customer, Gerhard and I met nearly 25 years ago. We are glad that all our suffering and losses from back then are finally being rewarded with our merger.
I have high regard for Gerhard's integrity, knowledge and steadfastness as a long-term player in the localization market (35 years). Gerhard's team, like our SimulTrans team, shows the virtues of long-term loyalty and friendly collegiality. Both our personalities and company cultures are very compatible: patient yet ambitious, passionate yet understated, embracing customers and employees as the pillars of our integrated company's foundation.
Although I love Germany on a personal level, this acquisition was a business decision based on:
- the synergy that it offers to customers
- SimulTrans' and Delta's common interests and strengths
- Germany's economic opportunities and cultural reliability
- Delta's promising team, customers, and overall trustworthiness
Delta's Bright Future
Now after six months of working together, I'm glad to report that Delta is having one of its best years ever, resulting from these advantages:
- stable and growing customers
- long-term and competent employees, most working at Delta for five or more years
- Germany's stable economy, the largest in Europe, and large manufacturing base
- more financial discipline
This last success factor can be credited to Robert Flanagan, SimulTrans' Finance Director in Dublin, who orchestrated this transaction and shares key management duties with Gerhard.
Over the coming years, we will further integrate Delta into SimulTrans, updating branding and systems. At the same time, SimulTrans will incorporate Delta's effective processes across our worldwide offices.
You can learn more about Delta at www.dicits.com
On a related note, we hope that the SimulTrans family of localization companies continues to grow, especially in China and the U.K and U.S. If you share this interest and want to help SimulTrans grow, I look forward to receiving your email.
P.S. In case you're wondering, I'm a big fan of Germany but I'm not German. I'm half Irish and half Ukrainian. But at SimulTrans, we appreciate the diversity of all countries because without them, we wouldn't have our livelihood in localization.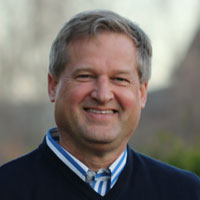 Written by Mark Homnack
Mark is SimulTrans' Founder and CEO. Starting with $50 of "seed capital" from a Ph.D. fellowship in 1984, Mark transformed a simple vision into a thriving multinational localization company. In addition to initiating and overseeing SimulTrans' global operations, Mark has led SimulTrans' expansion efforts into localization, major accounts, and international markets. He received his B.A. from Williams College, M.A. from Middlebury College, and Ph.D. (abd) from Stanford University, studying language and literature. During his free time, Mark likes to travel and eat at ethnic restaurants, especially with his family.