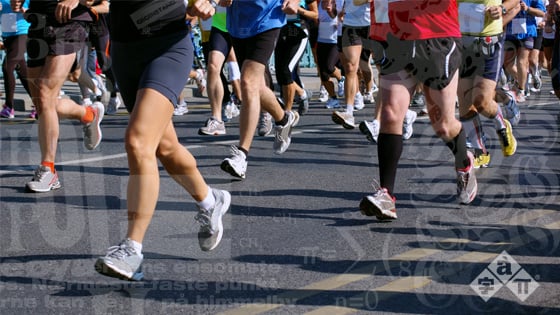 Mark Homnack, SimulTrans' Founder and CEO, showed me his disintegrating headphones this evening. He just returned from a marathon trip to visit our company's offices in Ireland and Germany as well as a key client in Tel Aviv.
After being away for over a month and flying thousands of miles, it is no wonder that Mark's headphone cushions had had enough. I had a similar headphone experience a couple years ago, when I was routinely covered in flaky black ear cushion powder after each flight. Being more sensible and frugal than I, Mark searched on Amazon for ear cushion replacements (I had frivolously bought an entirely new pair of headphones). He found just the right cushions (with a five-star review average) and ordered them.
While happy to be basking in the joy of a great deal and the prospect of enjoyable listening for flights to come, Mark was more taken by a statement on the seller's page:
"WE ARE HERE TO STAY: For us , this is not a sprint , its a marathon . We will back all of our customers even after the 180 days of warranty. "
Mark highlighted to me that this philosophy reflects SimulTrans' history. We, too, are running a marathon. Mark has already been at SimulTrans much longer than 26.2 years (he founded the company in 1984). I will reach that marathon milestone in less than a year (having been here for 25.6 years so far).
As you know from my previous blog posts, I stick with the localization race because of my love of evolving technology and international languages and cultures, and the amazing people I get to work with everyday.
In architecting your localization program, I encourage you to look at as a marathon instead of a sprint. Build for the future, realizing the translations created today will likely survive for many years, updates, and products. Rather than just planning for the target release date next month, have a positive impact on the many more release dates to come. Specifically:
Instead of racing to delve directly into translation, develop a glossary of core terms and research perfect equivalents in each target language. These perfect terms will serve as the strong foundation for your company's linguistic future.


Manage translation memory soundly. Amassing millions of words is useless if they are wrapped up in duplicate segments or misaligned pairs. Building a database of the right words in well-constructed segments will guarantee long-term consistency and financial savings.


Work with a consistent team of expert translators who know your product. The world's best linguists explore the true meaning of the source, accurately convey it in the translation, and continuously learn. They will easily defeat a crowd of translation sprinters in any marathon judged by linguistic success.
As we look back a the 34 years of SimulTrans' history, it is obvious the company's leadership team has approached our evolution as a marathon. By offering high quality and enduring customer service we will win the race.