Here is a list of tips and recommendations to troubleshoot the clean-up of Trados Studio files (SDLXLIFF) back to their native format. For further assistance, please consult the SDL Support website or contact your SDL representative.
1. Check Your Trados Version
Make sure to use the latest, approved Studio version (SDL Trados Studio 2019 SR2 with Cumulative Update 9 or higher, DL Trados Studio 2017 SR1 with Cumulative Update 15 or higher, henceforth referred to as Studio) in all computers involved in the localization cycle. This is the version approved in the Minimum Requirement document (v8) effective from February 2020. If an older version is used, you may not be able to clean-up the files due to conflicts with filters and settings.
Minimum version for Studio 2019 SR2 is 15.2.6.2831. Current version for Studio 2017 SR1 is 14.1.10018.54792; this can be checked in the Help → About menu in Studio.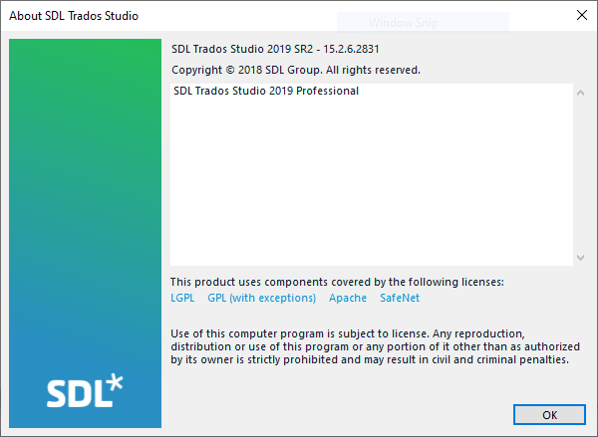 2. Studio Project Environment and Filters
Please always work within the Studio Project environment created by exporting the content of the Studio package as provided by SimulTrans.
Translators should:
Open the Studio package
Export the full content to their local machine (we don't recommend working over network paths)
Open the Studio project
Translate the files within the project on their machine.
Generate the clean files within the project
If a SDLXLIFF is translated in isolation (e.g. opened separately instead of being part of a package/project) then conversion issues may occur and could result in a "Dependency file not found" or "Filter Not Found" error. If you need to send files to a 3rd party for review, please always create a package rather than sending individual SDLXLIFF separately.
Studio contains new, updated filters for several file types, like Microsoft Office, InDesign, FrameMaker and tag-based files (HTML, XML, XLIFF), not compatible with previous versions. Using older versions may not allow file verification or clean-up.
3. Dependency file not found
The "Dependency file not found" error when trying to open or clean-up a SDLXLIFF indicates the file has been translated outside the Studio Project environment, over a network path, or in a PC with not enough memory resources. It could also show if the original file is too big and couldn't get added to the package.
To fix this, in the error dialog click Yes, and then navigate to the location of the Prepped Source provided as part of the kit.

The bilingual file will now open in the Editor view. Go to File > Save Target As and save the target file in exactly the same folder as the source
4. Filter not found
If you are using an older Studio version, you may get a "Filter not found" error when trying to generate clean files:

This usually indicates that the filter has been recently released by Trados and it's not present in your older Studio version.
To solve this, update to the minimum version described in this article and make sure to add the filter to the project settings.
Set the project in the Project View as Active
Right click on it to display the Settings.
Click on File Types. A message may show that new filters are available and can be installed. Click on the message and install the filter.
Tick the checkbox next to the filter so it's selected for this project.
Save changes and close the Settings.
You should be able to generate the target files now.
5. Locale Mismatch
A compatibility issue between Windows OS settings in older Studio versions may prevent the clean-up of Office files. The packages for translation from SimulTrans are created with the System Locale set to English (Ireland), which uses decimal points and comma thousand separators. Trying to clean-up any file from these packages in another System Locale that uses decimal commas and point thousand separators, like Spanish (Spain) or Italian (Italy), may result in one of these errors:

"Object reference not set to an instance of an object"
"Failed to save target content: Enumeration already finished"

In order to clean-up the files:

1. Set up the System Locale and Format to English (Ireland) or English (UK) in the "Region and Language" dialog.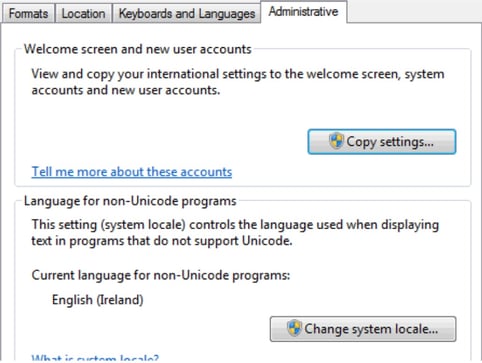 2. Re-start the machine if needed.
3. Generate the Target File(s) as usual.