Tips for creating content for international users
Writing with a global audience in mind can make translation much easier, reducing time and cost. At the same time, content that is not locale-specific will appeal to international users without alienating people outside of the original source market.
SimulTrans has created a compelling white paper filled with tips touching on the following topics:
Consistency
Terminology
Controlled English
Style
Clarity
Vocabulary
Avoiding Ambiguity
Page Layouts
Managing Change
Download the white paper here to take a big step in making your content friendly for a global audience.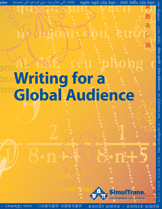 Writing for a global audience