Ensure your medical translations delight your users and don't kill patients.
Global companies in life science industries need translated content that is accurate and clear to inform and please patients, medical practitioners, and other parties who use products.
You will benefit from this eBook in the following ways:
Understand how to ensure high linguistic quality.
Discover techniques to apply translation technology to improve consistency and reduce costs.
Learn what certifications and regulations apply to medical translation.
The 13 best practices for medical translation are described here, in our free eBook. These tips apply to any translation approach or partner; you can benefit from them even if you do not work with SimulTrans.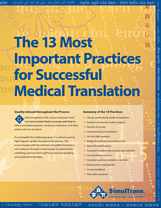 The 13 most important practices for successful medical translation