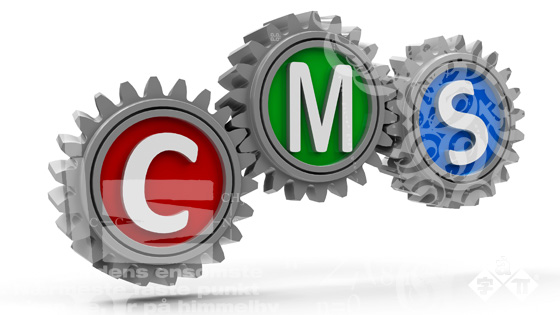 A CMS (Content Management System) is a platform which is typically used for managing and publishing website content creation.
How Does it Work?
A CMS allows users who do not have technical programming knowledge to create, store, organize and publish content on the web in a simplified way. It separates the content and the visual part of the website, offering a simplified graphical interface to help you manage all the content on your site. So you can create different layouts, edit content, add text and images, publish videos, and many other features to your website.
What Are the Advantages of Using a CMS?
In the past, web pages were created using HTML, JavaScript or CSS programming languages. This is not easy as you would need to learn how to write code first. So CMS platforms have made publishing content to the web much easier.
If you only need to have a simple website that doesn't need constant content updates or that doesn't have a hard-coded page, you can survive without a content management system.
However, this changes if your website is for a company with multiple users who need to add and publish content like product updates or marketing campaigns regularly and in different languages. In this case, a CMS is almost a necessity as it offers several tools so that you can keep track and manage all the content on your website easily.
You will find many advantages when using a CMS but one of the main ones is the amount of resources that are available such as:
Plugins, Themes and Extensions. A CMS platform has the functionality to allow users to add extras such as plugins, extensions, and themes and to use these you do not need to have any programming knowledge.
Indexing. When you create content for your website, for instance, blogs, the CMS will allow you to segment all blogs into categories, subcategories, tags, etc. This means that users, when they search for specific information such as publication dates, blog writer name, keywords, product names, etc. can easily find the information they are looking for.
Access levels. Another advantage of using a CMS is that it will facilitate the review process of the website content before it is published. The CMS provides different access levels, so different team members can have different access such as: admin, edit, or read only access. This ensures that only authorized people have access to the content that will be published.
How to Choose the Best CMS?
Today there are many CMS available on the market. I recommend that before you purchase a CMS platform for your company, you do some research to understand what each platform offers.
Here are a few tips:
Customer Help: it should offer some level of customer support
Training: it should provide online training courses for your team
Pricing: it should offer clear pricing (monthly, licenses, extension charges, etc.)
Ease of use: it should be straightforward to make changes to the content after publishing
Design options: it should have plenty of templates to choose from and customize
Export data: it should be easy to port data in and out of your CMS
Extensions:

it should allow for addons to be added to enhance

performance
Which CMS to choose?
If you are wondering what CMS platform to use for building your website, here is a list of the best for 2020 that goes into the pros and cons of each of the most popular CMS in the market.
And according to WEBSITESETUP these are the 10 most popular CMS this year: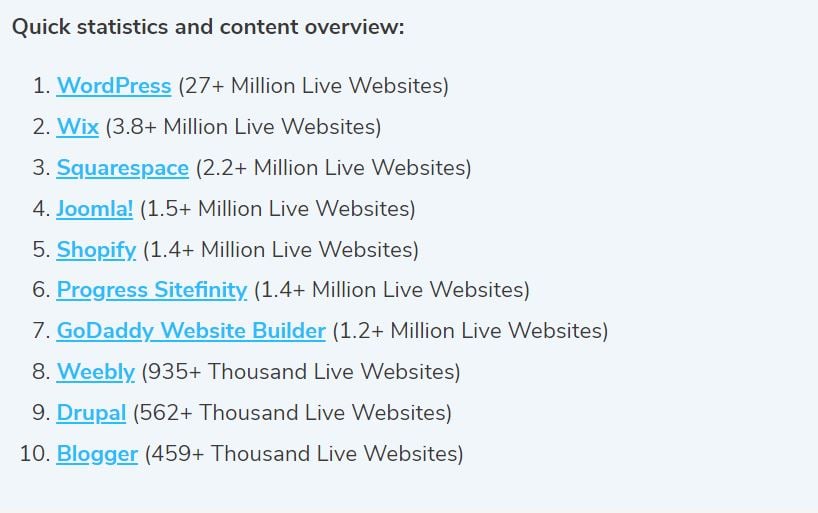 Data from: BuiltWith and W3Techs.
Translation of Websites from a CMS
If you have decided to use a CMS and now need to translate your website content into another language SimulTrans can help you to seamlessly automate the translation of your content stored in content management systems, source control repositories and cloud service or marketing automation platforms.
We can integrate and simplify file management and the overall localization process by moving the content in your repository directly into the translation workflow.
No need to send or receive your files by e-mail or external methods. All we require is access to your content location and your schedule. Once the files are localized and validated, they will be ported to the location of your preference in your repository. There is no limit on the number of languages or files that can be processed.
SimulTrans integrates the content through Connectors or Plugins. So for instance, if you use WordPress, there is a multilingual plugin for website translation that will facilitate the translation process.
If you have a different CMS and there is a higher level of customization involved in the integration with your CMS our team will let you know the specific requirements for each.
Are you considering the move to a CMS in the future and want to understand how this will fit with your current localization strategy? Contact us for a chat with an engineer.